Checkmate: Prison Chess Competition More Than Just a Game for Both Inmates and Students
By John Cokos, New Jersey Department of Corrections
Published: 01/07/2019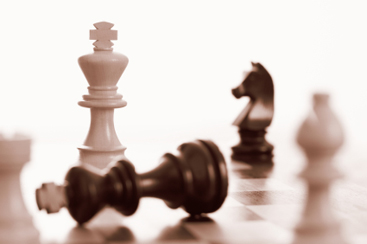 Princeton University students Jacob Berman and Dylan Mavrides waited inside the gym at New Jersey State Prison along with four fellow student chess club members. Forty-nine inmates quietly filed into the room while officers kept watch. Berman and Mavrides, both of whom have visited the prison before, scanned the room for familiar faces.

"I had a chance to connect with many of these guys on a personal level," Berman said. "We joked around a little and trashed talked each joked around a little and trashed talked each other."

In the hours that followed, the students competed with inmates in a semi-annual event known as the Ivies vs. Inmates chess competition.

Both the inmates and students look forward to the competition, which has garnered attention from numerous media outlets, ranging from the Star Ledger to Sports Illustrated.

The setup of the games, known as a simul in the chess world, has each student playing eight or nine opponents at the same time.

To say every inmate and student was completely engrossed in the game is an understatement. The level of focus brought the crowd's initial murmurs down to almost complete silence, where each player's facial expressions were more telltale than words.

So why do two groups of individuals from such different walks of life want to spend time together? "It's a love of the game," said John Marshall, a Princeton-area actuary who has helped coordinate the event since its inception in 2001. "The contrast between these two groups of players, who are unlikely to meet anywhere else, is fascinating.

"It proves that chess is a great moderator," he added. "It cuts across all social strata and places your focus solely on those 64 squares."

For some of the students, the event began as simply another opportunity to play chess, but then turned into something more.

"The first time was mainly because I loved chess club and I wanted to be as engaged as possible," said Mavrides, who has visited the prison four times to play chess. "It's evolved into a fun tradition where I get to see a tiny bit of a world that I am pretty disconnected from day-to-day and help the prisoners have a good day every once and a while."

Many of the inmates are skilled chess players, and the competition with the students is the pinnacle of being a member of the prison chess club. Interacting with the students offers a challenge and a connection to the outside world.

"These students are very high-caliber players and challenging to play," said an inmate who asked to remain anonymous. "They also bring a wide range of backgrounds, and they leave with a different perspective of the men behind these massive walls."

Prison officials note that prison chess players are less likely to behave insubordinately, stating the game reinforces concepts like discipline, respect and patience.

"All of the players were very polite and sportsmanlike," said Berman, who has been playing chess since age 2. "They've expressed excitement and gratitude for the opportunity to compete with us and to get to know us."

Not unlike the game of chess itself, the competition has offered a unique opportunity for both parties to learn from each other.

"It demands you place yourself in someone else's shoes – to explore someone else's motives," Berman said. "It's an incredible reality to observe, and I'm still trying to wrap my head around what a novel experience this has been."

John Cokos, a former Navy Mass Communication Specialist, began working for the New Jersey Department of Corrections' Office of Public Information in May 2018.
---