WORKFORCE WELLNESS: Workforce Wellness Initiative Launched to Benefit All NJDOC Employees
By Shaheed M. Morris, New Jersey Department of Corrections
Published: 04/22/2019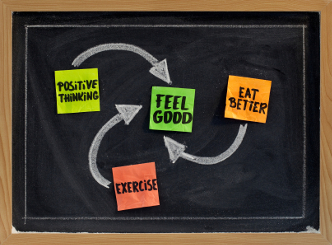 The long-awaited Workforce Wellness initiative is underway within the New Jersey Department of Corrections.

The initiative is intended to promote whole-person wellness and will be available to custody and civilian staff throughout the NJDOC.

"Wellness includes mental health, workplace health," Director of Mental Health and Addictions Dr. Herbert Kaldany, who is the chairperson of the initiative, said. "Financial health. Spiritual health. We really want to be diverse in different categories of wellness."

Although it's still in the preliminary stage, the program will be rolling out new components on a monthly basis.

Kaldany said that the program is needed to respond to the emotional and physical stresses first responders face.

"We consider all of our employees to be first responders," Kaldany said. "Being a responder has certain stresses and difficulties that we are trying to address."

Fitness stations at the NJDOC facilities will be equipped with an informational kiosk, workout equipment, and literature and information on health-related issues, healthy food options and various topics. At the fitness stations, links and important telephone numbers will be available.

Vendors' staff are also welcomed to use these services. The pilot sites are Central Office headquarters and South Woods State Prison.

A Workforce Wellness Committee Chairperson will be designated to lead the local Workforce Wellness Committee at each location.

The initiative centers around six pillars of health: occupational, physical, social, intellectual, spiritual and emotional.

The emotional pillar carries a stigma that makes discussing it extremely difficult for some people.

"We hope we can decrease the stigma by raising awareness and collaboration among the entire workforce," Kaldany said.

The physical pillar will include monthly health awareness topics and screenings, nutritional counseling and discounted gym memberships.

The intellectual pillar is designed to broaden intellectual depth by encouraging the workforce to seek training and higher education opportunities.

As for the social component, it will include volunteer opportunities and positive community contributions.

Peer specialist and resiliency training will start this summer and continue on an ongoing basis. Director of Correctional Sta" Training Academy Aaron Erven indicated that the peer resiliency program will be available for every member of the Department.

"Mental wellness is part of our mission here,"

Erven said. "We are bringing it to the forefront so that civilian and uniform staff can speak about the issues that are there."

The peer specialists will be developed through resiliency training, which will be open to all uniformed and civilian staff, regardless of rank or title.

Resiliency trainers will educate employees on the warning signs that could lead to a potential crisis. "The training will help make the staff better rounded, so that we will be able to help each other," Erven said.

According to the American Addiction Centers, a national study concluded that suicide among correctional officers was 39 percent higher than other professions.

Acting Commissioner Marcus O. Hicks, Esq., is working on ways to help employees de-stress in order to avoid bigger mental health problems down the road.

"The well-being of our officers, as well as our civilian staff , is one of my main priorities," Hicks said, "which is why I implemented a six-person Workforce Wellness Taskforce to successfully provide employees with the resources they need to address the incredibly difficult mental and physical aspects of the job."

The program has been in the planning stages since August 2018 and was ultimately approved by Hicks in January 2019.

Garden State Youth Correctional Facility Administrator Tracey Shimonis-Kaminski said if anyone should fall on hard times, the wellness initiative will officer support without judgment.

"The Department's wellness initiative is twofold: both proactive and reactive," Shimonis-Kaminski said. "We hope by implementing the proactive awareness and reduction of stigma associated with mental health, we reduce the need."

For many, opening up about deep-rooted and often private issues is awkward.

"The most difficult part is getting people to open up," Shimonis-Kaminski said. "It is a process, and confidentiality is a huge part of the process."

Kaldany agreed that changing a culture could take years. The wellness services will also be available to the families of the employees.

"The families often see problems in the employees that they can't see in themselves," Kaldany said.

The Workforce Wellness Taskforce committees will consist of six or seven employees in 14 locations, each of the 13 prisons, plus Central Office. The composition of the committees will reflect the cultural diversity of the staff.

The initiative has a chaplaincy component, which will require chaplain training and the recruitment of volunteers. A Prison Chaplaincy Program will also start this summer.

"We wanted to create many different options," Kaldany said. "Some people are not comfortable speaking with a peer. Some are comfortable speaking with a chaplain."

In addition, all employees working in New Jersey can access the Employee Advisory Services -- the EAS officers counseling services free of charge.

The Cop2Cop suicide helpline already exists. The Department will create a specific referral help-line for those working in correctional settings so they can speak to a fellow correctional police officer.

"The Executive Staff has made a commitment to investing in the overall wellness of the staff, both in the immediate and long term, targeting both physiological and psychological health," Shimonis-Kaminski said.

Shaheed M. Morris is a former television and newspaper journalist. He currently works in the public information office for the New Jersey Department of Corrections.
---