Women in Corrections and the ##metoo Movement
By Dr. Susan Jones
Published: 06/03/2019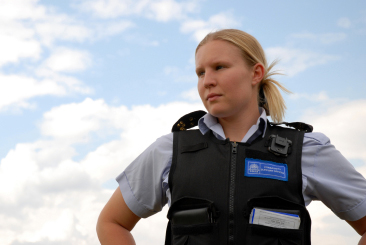 The ##metoo movement has spread across the country and has been a rallying cry for many people in a variety of workplaces. However, the corrections work environment has been unusually quiet during this movement. I have not seen a single female corrections officers on national media talking about the work environment within prisons in this country. I had to ask myself why?

One option is that sexual harassment doesn't occur within correctional facilities. I really hoped that this would be the "right" answer, but any review of pending litigation shows that is not the case. The news media and social media are filled with corrections stories regarding issues that continue to occur in what many people call a very sexualized environment.

These stories describe incidents of sexual harassment from supervisors who wield power over an individual's post and shift assignments. The most basic type of sexual harassment, "quid pro quo" is still alive and well in this business. Stories are also abundant when corrections employees talk about their co-workers and the types of "hostile" environments that are created when female staff don't fit in to this work or adapt to the work in the manner expected. Last, but not least, is the harassment from non-employees. In corrections, that includes harassment from inmates toward staff. Many times, this type of harassment is described in incidents where inmate expose themselves toward staff in an attempt to harass and intimidate them.

So, if sexual harassment is alive and kicking within corrections facilities, why did the ##metoo movement pass it by? If corrections employees are being subjected to harassment, regularly then why are they not joining in the movement and taking the opportunity to give voice to this issue? I have talked to many female corrections employees in this country and asked them these specific questions and the answers I receive are very similar. It is about the "victim" label.

Many sexual harassment curriculums use the labels of harasser and victim. When an employee makes a complaint about sexual harassment, they have to admit that they have been victimized. The victim is often described as someone who has less power than the harasser. Consequently, in a work environment where showing vulnerability is consistently discouraged, few people step up to the plate and admit that they have been preyed upon.

Of course, this type of reluctance can be found in other work environments but the stakes are different. When a corrections employee identifies as a victim, their ability to do the job is called into question. When the rumor mill extends this information to inmates, then their ability to manage inmates can be affected. This type of label requires corrections employees to let down their shield of confidence, command presence, and strength, to reveal that they have been hurt.

When I have talked to female corrections employees who have made complaints of sexual harassment, they talk about the many or constant issues they endured before they were willing to ask for help. I have not ever talked to a female officer who brought a sexual harassment complaint the first time "it" occurred. Many of these individuals filed complaints on their way out of corrections. Some never said anything until they had a different job or had moved to another location.

Complaining about sexually harassing or abusive actions from supervisors and co-workers is difficult, but when female staff are subjected to the sexually harassing or abusive actions from inmates, the stakes are even higher. If an agency has a firm policy and procedure in place to deal with this type of inmate behavior and all employees are encouraged and supported to hold inmates accountable for these types of actions, then the behavior is nothing more than one more management issue. However, when employees are not working in an agency that is committed to holding inmates accountable for this type of behavior, the likelihood of an employee reporting this behavior decreases. In fact, in such an environment these incidents are not usually labeled as sexually abusive/harassing actions and are often ignored and seen as "just part of the job."

Therefore, when an employee steps forward to make a complaint about the lack of support to stop this particular type of sexual harassment it is often only done after many incidents have been endured and many informal avenues have been exhausted. When this type of complaint is lodged, the individual employee is aware of the vulnerability that they are showing and the risks involved in this type of declaration.

One female employee told me that this type of inmate behavior is not sexual harassment because she is not a victim. The power of the label in this statement is incredible.

So, as the ##metoo movement passed by and ignored the corrections work environment? If so, does that mean that sexual harassment does not occur in corrections facilities? Or is the real issue that corrections employees are not empowered and supported enough to take this opportunity to use their voice to complain? Is it time that we acknowledge that integrating females into the corrections workforce means more than just hiring women and expecting that they will fit into the work environment?

Just because corrections "dodged the bullet" of the #metoo movement, doesn't mean there is no work to do.

Dr. Susan Jones retired from a warden's position within the Colorado Department of Corrections. She worked in a variety of corrections positions in Colorado for 31 years, including: community corrections, correctional officer, sergeant, lieutenant, manager, associate warden and warden. Dr. Jones research interests have focused on the issues that correctional employees face on a daily basis. Visit Dr. Jones's Facebook page "A Glimpse Behind the Fence".
---