Women in Corrections
By Terry Campbell, Professor, Purdue University Global
Published: 06/24/2019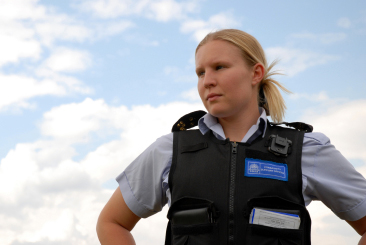 Women working in corrections continues to be a topic with gradual proactive changes occurring. Gender bias exists as well as increasing cultural diversity issues. Our prisons, including staff and inmates, are increasing globally and we are seeing an increase in different types of cultures being incarcerated. This includes more diversity of officers and staff. Some of the issues facing women in corrections can also be related to additional cultural issues and beliefs. These only add to the variety of challenges faced by women working in corrections. I will expand on these areas with some additional observations.

Throughout corrections, training is required for cultural diversity; differences, gender; sexual harassment; employee conduct standards; litigation; civil rights, etc. Most departments have annual training related to these and other areas. Yet, even with awareness and proactive measures, some systems continue to struggle along these lines. There have been numerous court rulings related to females working in corrections and male facilities.

In corrections, we continue to hear a variety of biases against women and why they should not work in corrections. We can develop a list of pros and cons for this, however, changes are in place and some progress is being made. I checked the following Federal Bureau of Prisons site; www.bop.gov/about/statistics/statistics staff gender.jsp and located the following statistics: (Note, the numbers below are from June 1, 2019).


| | | |
| --- | --- | --- |
| Gender | # of Staff | % of Staff |
| Male | 25,659 | 72.7 |
| Female | 9,868 | 27.3 |


You can compare these numbers for your agency and while doing so, look at the number of officers; supervisors; and administrators by gender. Progress is being made, yet remaining proactive is a must. There has been a variety of research over the years and still ongoing research is in place.

We know traditionally corrections was a male dominated field. One exception would be some of the female prisons. When I first began my corrections career in the late 70's, there were some female officers. However, these women were not allowed to work in the hallways and barracks. There were opportunities for promotions, yet in some cases females were not selected due to them not being allowed to work directly with and/or supervising inmates. Through various court rulings, we began to see some challenges.

I worked with many females throughout my career and found them capable of performing the same duties as their male counterparts. As an administrator, I promoted one of the first females as an assistant warden at a male facility. Unheard of at that time and yes I received some negative comments from male officers and supervisors. Over time, this female was promoted to warden at a male facility. She did not receive the assistant warden position based on being a female, she exceeded the job requirements, possessed exceptional knowledge, skills, and abilities, and during the interview surpassed the male applicants. These are the reasons she was recommended for promotion.

While corrections was being reshaped, there were many reasons why women were not allowed to have contact with inmates. A large percentage of these reasons was based off of the 'Good Old Boy' attitude. This has diminished somewhat, but is still present in some agencies. Also, some of the excuses made also can apply to the male officers. Women who entered the corrections field and worked toward promotions are to be commended. They helped lead the way and continue to inspire other officers. We only need to look at the various corrections agencies and professional organizations throughout the United States and note the number of females holding a variety of professional positions.

Each of us has a responsibility to be supportive of our co-workers and never forget the mission of the department. This includes ensuring all security and safety procedures are in place and being followed. Some of the following areas can be expanded upon and are important. Women have worked hard and earned their way with dedication, positive work habits, proven themselves and deserve equal representation. We often fail to recognize the varying strengths they bring to corrections. This consists of many areas; communication, ability to diffuse a situation, positive impact they have on the inmate population, staff, and the institution itself. I was always taught to be 'firm, fair, and consistent,' this is the start to earning an inmate's respect. When this occurs, the inmate's perception often changes.

I need to mention the role of supervisors and management in training and support of all officers and staff. Supervisors and management must manage by walking and verifying the facility organizational culture. Are supervisors actually supervising and utilizing training officers? This includes managing, directing, and evaluating officer performance. Again, this is equal representation. The results may be favorable, training issues identified and can be corrected. At the same time supervisors are projecting a positive environment and will have a positive impact upon the staff and inmates. This is resolving issues before they can escalate quickly. Regardless of gender, we cannot ignore the 'basics' we were taught and all are held accountable on the same level.

I am looking forward to the 2020 U. S. Census and noting new information. You and I have a responsibility to not let any 'bias and/or stereotypes we may have, influence our work behaviors, attitudes and support of each other.' I learned a long time ago; until we accept the responsibility and consequences for our actions, change is not going to occur. Become part of the proactive approach and part of the solution, not the problem.

Stay safe out there.
Terry

Terry Campbell is a criminal justice professor at Purdue University Global and has more than 20 years of experience in corrections and policing. He has served in various roles, including prison warden and parole administrator, for the Arkansas Department of Corrections. Terry may be reached at tcampbell@purdueglobal.edu.

Other articles by Campbell


---