Recovery: NJDOC Aids in Expansion of MAT to County Jails
By John Cokos, New Jersey Department of Corrections
Published: 02/24/2020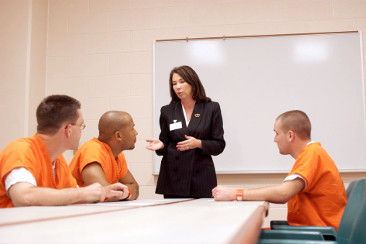 The New Jersey Department of Corrections (NJDOC) takes measures to help tackle the state's substance-use epidemic immediately upon intake. Offenders are screened for common classes of addictive substances and referred for psychosocial and Medication-Assisted Treatment (MAT) when appropriate.


During the initial screening, approximately 30 percent of state-sentenced inmates are diagnosed with a substance use disorder (SUD). Since all persons present varying manifestations of addiction, the Department takes a multifaceted approach to treatment that includes MAT. The NJDOC's MAT program consists of all FDA-approved medications for substance use disorders, along with a peer-mentorship program that provides offenders support during their recovery journey.

To expand MAT services across the state, earlier this year, the NJDOC, in partnership with the Murphy Administration, invested $8 million for the expansion of MAT programs in county jails. The Department also provides technical assistance in immediate intervention and long-term treatment.

Following the grant announcement, county jail wardens and representatives of the NJDOC, Department of Human Services and Department of Health gathered at Mid-State Correctional Facility to discuss MAT program implementation in jails.

During the meeting, NJDOC medical and custody staff members demonstrated how to safely and effectively administer Buprenorphine, one of several medications utilized in the correctional MAT program. Dr. Herbert Kaldany, the Department's Statewide Director of Psychiatry, Mental Health and Addictions, then led a follow-up discussion and questions-and-answers session regarding the efficacy of MAT in county jails.

According to a document written by Dr. Kaldany outlining the NJDOC's addictions program, addictions treatment for offenders often starts at the county jails. Prior to justice reform, the majority of people spent an extended period of time in a county jail and then moved on to the state prison system. Since the advent of bail reform, the trend has been to see the great majority of people be released after only a few days. By encouraging immediate access to MAT in county jails, people with addictions can move more successfully into treatment in the community. Should a person enter the state prison system, the treatment can be continued without interruption or initiated if medically warranted.

Prior to the meeting at Mid-State, leaders from the county jail community expressed optimism regarding the initiative.

"Each county jail will now be able to provide this well-needed service as part of the change in our day-to-day responsibilities," said Eugene Caldwell, warden of the Gloucester County Department of Corrections and president of the New Jersey County Jail Warden's Association. "With this partnership, we can positively change someone's life."

Funding for the initiative will go toward medication, hiring clinical staff trained in addiction, educational programs, trauma-informed addiction training and the development of network partnerships to assist in providing a range of services for individuals post-release.

Encouraging the county jail system to offer more immediate access to addictions treatment for people in custody is a key component for better outcomes when the treatment is coordinated through a statewide plan.

John Cokos, a former Navy Mass Communication Specialist, began working for the New Jersey Department of Corrections' Office of Public Information in May 2018.
---