Profiles in Education: NJDOC Teachers Explain Why They Prefer that Their Students are Offenders
By John Cokos, New Jersey Department of Corrections
Published: 05/06/2019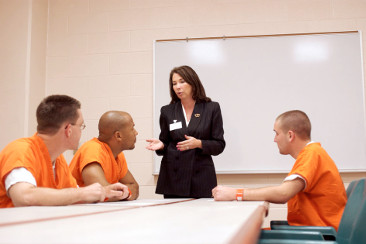 It wasn't that long ago that Takesha Reed was teaching computer skills to businessmen. Her students were middle-aged professionals looking for supplemental skills to enhance already established careers.

Today, Reed no longer uses laptops, Power Point presentations or projectors to teach. Her classroom is now an enclosed area of a restrictive housing unit at a state prison. Her students are inmates.

Reed's mission is to prepare members of the New Jersey Department of Corrections offender population to earn the equivalency of a high school diploma while incarcerated.

Why would Reed choose to make such a drastic career change?

"It's more rewarding than the job I did before," said Reed, an educator at Albert C. Wagner Youth Correctional Facility. "When you help an inmate get a high school diploma or reach any number of educational milestones, the sense of accomplishment for the student and the educator is overwhelming. You help that person realize that he can turn his life around – that he didn't just make a bad life choice and waste a lot of time."

A restrictive housing unit can be a challenging environment for teaching, since inmates are only there temporarily. Nonetheless, Reed does everything in her power to maximize learning during the time she has and actually feels that teaching without technology can be an advantage.

"There is more writing and more hands-on learning without technology available as a crutch," Reed said. "I'll say, 'Let's talk about this,' and I'll try to draw students in and get them to feel like they need to know more."

As students transition out of the restrictive housing unit and into the more traditional classrooms available at the prison, Reed reports their academic progress so they can continue on at the appropriate level.

"Many of the students I had in restrictive housing earned high school diplomas, and many others have begun college courses as well," Reed said.

About 50 miles north of where Reed works, 36-year-old Jason Urbanski is an educator at Northern State Prison. Encouraged in his career choice by his grandmother, who was a mentor to him and who had a successful 40-year career in education, Urbanski also transitioned from teaching in a traditional classroom environment to a prison setting.

"I've always liked working with focused groups of students who may not be mainstream," Urbanski said.

Urbanski has taught at public schools and charter schools and worked for not-for-profit groups that specialize in building career readiness and social and emotional skills for students in various schools districts.

"The students I work with now have all kinds of educational needs, many with limited or interrupted educational backgrounds," he said. "My hope is that I can help these students get their high school diplomas and give them a really good shot at a successful experience when they get out of prison."

After working with inmates for several years, Urbanski has identified a common advantage inmates have over traditional students.

"In a traditional middle school or high school setting, you have to help students make that connection as to why education is so important to them," Urbanski said. "Adult learners in a prison setting often see that value, and when they do, they're onboard. Once that drive to learn is in motion, and it's matched by the drive as a teacher to teach, it's the perfect pairing for success."

Every day brings new challenges for many of Urbanski's students. However, he reassures them that regardless of what else is going on in their lives, they've made a worthwhile choice that day just by showing up to class.

"Recently, I was working with a gentleman for about three months who moved on to the next level of classes, then earned his diploma. I was able to hire him as one of my teaching assistants," Urbanski said. "We hung his diploma on the wall so other students could see it and be inspired to strive for the same goals."

In addition to academic programs, the NJDOC offers a variety of vocational endeavors. One, the Mates Inn culinary arts program, provides a wide-ranging culinary education and the opportunity to learn in a real-world environment.

Chef Dora Dunn, one of the program's instructors, has been a food critic and a feature writer and has taught culinary arts in a college setting. Dunn sees her current job as an opportunity to share her knowledge and improve the lives of inmates under her instruction.

"I feel we all should do what we can to tend to those who need us the most," Dunn said. "This is what I have to offer, and this is what I do best."

The lessons that take place in Dunn's kitchen go beyond simply learning how to cook.

"Even if some of my students decide not to work in the restaurant business or never learn how to properly scramble an egg, they will leave with a better appreciation of the teamwork, self-respect, respect for others and work ethic needed to survive in life."

Jecrois Jean-Baptiste has been monitoring the progress of NJDOC educational programs since he became director of the Department's Office of Educational Services in 2011, noting some very positive statistics.

Since 2010, high school equivalency passing rates within the offender population have risen 13 percent, along with a significant increase in reading ability. Additionally, enrollment in academic and vocational programs continues to grow as wait lists to get into educational programs shrink.

"These data points summarize how hard work and a collaborative process have synthesized into developing correctional education within the State of New Jersey into a national model," Jean-Baptiste said.

Educators like Dora Dunn, Jason Urbanski and Takesha Reed continue to serve as instructors and mentors to the incarcerated population and are a driving force behind the Department's progress.

"Successful NJDOC educators need to be resilient in their teaching methodology in order to address the needs of a multi-age classroom with varied learning needs," said Jean-Baptiste. "They must understand how their teaching can have a major impact in making both the facility and the community a safer place. They must empathize with those incarcerated, who will come to understand that school is no longer a place that symbolizes failure. The NJDOC educator plays a significant role in helping the incarcerated population to take advantage of their last chance to break the cycle of incarceration."

NJDOC EDUCATIONAL SERVICES DATA POINTS

High School Equivalency Passing Rate
2010 - 65% (6th-7th Grade Reading Level)
2018 - 78% (11th-12th Grade Reading Level)

Waiting List for Academic Programs
2010 - 956
2018 - 542

Enrollment into Degree-Bearing Programs (A.A. and B.A.)
2013 - 315
2018 - 504

John Cokos, a former Navy Mass Communication Specialist, began working for the New Jersey Department of Corrections' Office of Public Information in May 2018.
---