Gender Resistance in Corrections
By Dr. Susan Jones
Published: 05/20/2019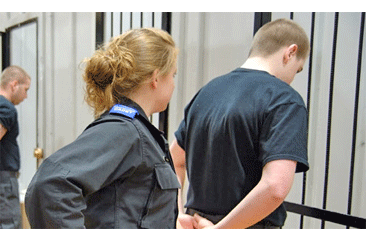 The recent focus upon Gender responsive programming for female offenders has been widely discussed and many programming approaches have been implemented in a variety of jurisdictions. The idea that gender specific programming with female offenders may affect long-term improvement in many outcomes, including decreased recidivism, has shown significant promise. It is ironic that the corrections profession is devoting time, money, and attention to this type of gender focused programming at the same time that resistance against female corrections employees continues to exist. This type of resistance has been described in the theory of gender resistance. This theory contends that the resistance to female employees in corrections not only continues to exist, but can override sound decision making and policy formation.

Gender resistance can be found in many layers of the corrections agency, for instance, this type of resistance can be seen in the way that policy is drafted or implemented. During a study examining the policy formation process regarding inmate's access to pornography, I interviewed a male major who stated: "they (female officers) wanted to work here they should take it the way it was. Some people here think we shouldn't have to change one more thing." Another person told me: "this is the job, if they (female officers) don't like it, they should work somewhere else" (Jones, 2016). It is these types of attitudes that are often deeply embedded within corrections culture and they affect the way things are done.

In an earlier research study, Acker (1990) identified a gendered approach to policy when the policies and practices in a men's and a women's prison were examined and found to reflect and reproduce gendered inequalities. This research examined officer training and assignments and found a disproportionate benefit toward male officers working in men's institutions. When I discuss gender resistance with female corrections professionals, I am blasted with examples of instances describing females who have succeeded in this work. Often these types of conversations include women telling me that they are just like other employees, male employees, and they have not ever experienced barriers to success. I applaud female corrections professionals who are working in an environment where this type of statement is true. However, I challenge these same corrections professionals to turn around and take an inventory of other females they work with and ask the hard question: do the other females in your agency or chain of command feel like they are being treated in an equal and fair manner? Or, do they see barriers to their success? Do these other female employees hope for change in their workplace where they believe that their contributions can be valued?

These types of questions get at the issue of corrections culture. Has the culture changed in a manner where female employees are really a member of the team? The fact is that most agencies have some women in leadership positions in most areas of their agency. This type accomplishment has led corrections professionals to believe that they have succeeded in integrating women into their agency and the job is complete. However, a closer examination of the culture, not the policy book, may show areas that still need attention.

Just as the gender responsive movement has declared that not all inmates are the same and there must be a differentiation in policy between male and female inmates, in some areas, the same is true when drafting policy that affects staff. A recent publication, Women Under Pressure, (Institute for Health and Human Potential, 2019) concluded that organizations need to include more women in policy development, in part because women's brains work differently and this difference pre-disposes them to weigh more variables, consider more options, see more context, and visualize a wider array of solutions and outcomes to a problem. Going beyond policy, gender differences of employees may need to be considered in other areas, such as development of training development or when id entifying inmate management approaches.

I worked very hard in my career to make a place for myself and other female employees in the corrections world. In the 1980s and 1990s, the strategy was usually to just blend in and not make waves. The idea was that eventually "they" (co-workers and supervisors) would stop seeing you as a female officer and only see an officer. Due to the incredible power of the corrections culture, this approach was perhaps necessary to just be able to get there. Now however, it is time to make greater strides to achieve a full integration of the workplace.

This type of full integration of the corrections workplace means that women are not just "allowed" to work here but they are allowed to contribute and be a part of a team where gender differences are expected and they are addressed. The fact that a gender resistance environment still exists within corrections agencies in 2019 is something that should make every corrections professional embarrassed enough to make real and lasting culture change.

Sources

Acker, J. (1990). Hierarchies, jobs, bodies: A theory of gendered organizations. Gender and Society, 4(2), 139-158.

Institute for Health and Human Potential. (2019). Women under pressure: Doing your best when it matters most, retrieved from https://www.ihhp.com/women-under-pressure

Jones, S. (2016). Censorship policy of the Colorado Department of Corrections: A case study of policy implementation in a gender resistive corrections culture. Corrections, 1(4), 1-20. doi: 10.1080/23774657.2016.1218805

Dr. Susan Jones retired from a warden's position within the Colorado Department of Corrections. She worked in a variety of corrections positions in Colorado for 31 years, including: community corrections, correctional officer, sergeant, lieutenant, manager, associate warden and warden. Dr. Jones research interests have focused on the issues that correctional employees face on a daily basis. Visit Dr. Jones's Facebook page "A Glimpse Behind the Fence".
---