Improving Correctional Officer Safety
By Robert Kaiser
Published: 05/13/2019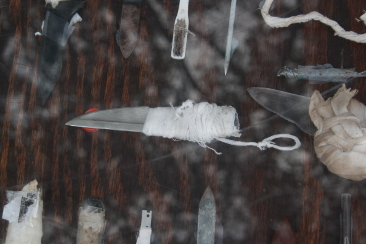 Our key objective must be to effectively help improve the personal safety of correctional officers. However, we got to accept the fact that we cannot change the aggressive behaviour of some inmates.

Yes, we should do everything that is possible to help them change their ways, by being supportive and understanding, but there is simply no doubt that an inmate consuming illegal substances, receiving extremely bad news, or simply wanting to 'make a point', can become extremely violent, regardless of the officer's excellent communication skill, calm personality and willingness to empathize with the prisoner.

We also need to remind ourselves that prisoners have got plenty of time on hand to develop tools and vicious weapon to carry out acts of aggression. The idea to create make shift weapons, e.g. sharpened table and bed frame legs, shanks made out of plastic, porcelain, wood or pieces of mirror, and the idea of melting razor blades into tooth brushes and turning pens, pencils and nails into 'spike weapon' have not been developed out of five minutes of simple boredom. These ideas have been developed following hours and sometimes days, weeks and months of malicious thought processes, and even the very best correctional officer can one day be on the receiving end of such malicious thought process.

Incapacitant sprays, body worn video cameras and metal detectors have all been made available to officers, aiming to improve their safety. CCTV, improved detection technology and patrol dogs are being utilised to reduce the risk of violence, subsequent injuries and even fatalities.

Nevertheless, it is shocking to see how many correctional officers are still being injured, stabbed, slashed, beaten or otherwise viciously assaulted in the line of duty in the U.S. and other countries around the world.

'Justice Lab' examines the science, social science and technology of criminal justice. This U.S. column featured a study by criminologists Jill Gordon of Virginia Commonwealth University and Thomas Baker of the University of Central Florida in 2015, looking at what causes correctional officers to feel scared.

The paper, published in Criminal Justice Policy Review concluded that for every 10,000 full-time Corrections Officers, there were 254 workplace assaults and violent injuries reported in 2011 that's 36 times the rate for all American workers. Of the nonfatal assaults and violent act injuries, more than one-third (37 percent) occurred while restraining an inmate or interacting with an inmate during an altercation. In 2013, 15 workplace fatalities of correctional workers were reported nationwide, in a workforce of less than 500,000 officers.

In the above paper, it was also recommended that the overall safety of a correctional facility can be improved if facilities for example address personal protective equipment.

Yet personal protective equipment, such as stab resistant vests or slash resistant clothing, is something rarely to be seen, even it has effectively been proven to help reduce workplace violence related injuries and even death. There are a very few countries that have made the personal safety of correctional officers one of their priorities. What is the problem?

Well, some may argue that any type of body armor could potentially escalate an already hostile situation. Yes, in many meetings I have attended with correctional services around the world, the 'non-confrontational ', 'non-aggressive' or 'non-threating' design issue has always been the centre point of these sometimes very passionate discussions.

My argument has always been on what we know, rather than on what we think or believe.

And what we know is that the first body armour in the UK was issued to the London Metropolitan Police in 1978. If the above argument is right, we should have seen an increase in violence towards London's police officers in the late 70s or early 80's. However, violence towards police officers did not increase at all, and neither have police officers started suffering from facial injuries because criminals consciously started to attack the remaining unprotected part of the officer's body, another concern raised by some skeptics.

There was also no increase in the number of attacks on correctional officers in New Zealand after 3,500 stab resistant vests were rolled out to all frontline custodial staff back in 2015, following several assaults on prison staff, including the death of officer Jason Palmer in 2010.

It really is a strange thing that law enforcement officers who engage with dangerous criminals for a very few minutes (and often with a solid backup team, K9s and helicopters), are required to wear body armour, yet correctional officers charged with supervising the very same dangerous individuals, potentially for a number of years, are not being issued with any type of protective clothing at all.

Do we really believe 'that guy' becomes a better human being when entering a jail, prison or correctional facility?

No CCTV, no detection device and no defence spray of any type will ever eliminate that risk, and it remains high and ever so real, as long as there is any direct human interaction between the correctional officer and the prisoner.

Operationally sound overtly worn stab resistant vests, also offering exceptional levels of protection from blunt force trauma injuries, have been designed to offer maximum protection to the wearer.

Ultra-covert stab resistant vests have specifically been designed for Counter Terror Units and other homeland security agencies operating covertly, especially in countries in which edged weapon are the number one threat. These have now been made available and issued to correctional officers in several countries. We understand there are literally thousands of covertly operating officers around the world who in the past have chosen not to wear any PPE/body armour at all, rather than seeing their safety being compromised, as the repercussions would have been severe.

Comfortable and breathable slash resistant clothing, offering the highest levels of field tested and officially certified cut protection are now also available and can without any doubt prevent horrendous and potentially life changing injuries and fatalities.

The bleed, the catastrophic bleed is the ultimate consequence of slash wound.

There is the side of the neck and throat. This area contains the Carotid Artery and Jugular Vein. If either is cut the attacker will bleed to death very rapidly. The Carotid is approximately 1.5″ below the surface of the skin, and if severed unconsciousness will result in approximately 5-15 seconds.

A horizontal cut across the neck and throat will not only sever your Jugular Vein and cause death, but it will also cut the trachea and ligaments that control movement of the head.

A more than one-inch penetrating slash to the inside of the forearm between the radius and ulna bones will sever the radial artery (this artery runs across the top of the radius bone 2-4 inches behind the base of your thumb). is. Severing the radial artery can result in unconsciousness in as little as 30 seconds, and death in as little as two minutes.

The brachial artery run along the inside of your arms. This artery is deep but severing it will result in unconsciousness in as little as 15 seconds, and death in as little as 90 seconds. But finally let's of course not forget that internal bleed when being stabbed, the tricky one to treat. Any object used to penetrate the body deep enough can cause catastrophic internal bleeding.

Craig Wylde was a prison officer at Frankland High Security Prison. He survived one of the most shocking assaults on a prison officer here in the UK on 13 March 2010. One morning he opened a prisoner's cell and the prisoner took the broken Tabasco bottle he was holding in his hands and slash and stabbed Craig under him arm, severing the main artery, muscles, tendons and nerves. Today I am the god father of his three gorgeous girls, and I have become a witness to the wide-ranging and substantial impact his disability has on his personal and his family life.

The fact of the matter a human being is exceptional vulnerable when faced by a person armed with a spike or any type of edged weapon e.g. razor blades or shanks made from plastic, porcelain, wood or pieces of mirror.

Yet we still rely on CCTV, metal detectors, batons, defence sprays, 'conflict management' training and other tools, but we are ignoring the fact that sometimes all that will simply not be good enough, and operationally sound PPE remains the by far best possible safety supportive system available.

Robert Kaiser is the CEO of UK based PPSS Group, global leader in high performance body armour and protective clothing, offering truly exceptional levels of protection from edged weapon, blunt force trauma, hypodermic needles and even human bites. PPSS Group is also the firm behind the widely respected SlashPRO® Slash Resistant Clothing brand. Robert is acting as consultant for several international governments and is widely respected for his genuine passion for the personal safety of homeland security professionals. His written word has been published in many industry leading publications in several countries around the world.
---