Nothing Works For Offender Rehabilitation?
By Leonard A. Sipes, Jr.
Published: 06/10/2019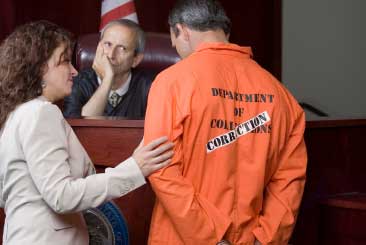 Everyone claims that offender rehabilitation programs work. From the President to those both right and left politically to endless advocates and criminologists, there is universal agreement that programs for prisoners and people on community supervision reduce recidivism.

When reporters, policy people or students contact me, there is disbelief when I suggest that they don't.

A summation of The Second Chance Act at thirty months is at the bottom of this article; there is no reduction in reoffending. The first one at 18 months also showed no reduction in recidivism. These findings are the basis for this article.

There is no mention of the new evaluation by anyone even though it was publicized by the National Institute of Justice. I searched for "The Second Chance Act evaluation–thirty months" during the week of release, yet no media source including those devoted to crime and justice news wants to touch it.

Every Program Fails?

But the issue isn't the Second Chance Act, it's EVERY program evaluated by the US Department of Justice and most from other sources. They either don't reduce recidivism, make things worse or have a marginal impact of less than ten percent.

What this means is that when there are reductions in recidivism, over ninety percent of people fail. They are rearrested or reincarcerated. Some multiple times.

If over ninety percent of people taking an experimental drug showed no results, the CDC would stop the experiment immediately; continuance would be harmful to society.

Yet I could fill the next 100 pages with references from some of the biggest names in politics, criminology and criminal justice stating that programs for offenders work. And yes, that includes the current administration.

The data for my assertions is available at Crime in America-Recidivism.

Pleading For Programs

I support programs for offenders. Most in the criminological community support programs. I have repeatedly asked if society wants people coming out of prison to be free of mental health and substance abuse issues. Who would say no to that?

There are dozens of national criminological or advocacy associations pleading for treatment programs, and I understand why. They are humanistic or religious efforts to assist people. They make prisons safer, saner places.

But we have no business suggesting that programs make society safer. Blind advocacy of programs doesn't help anyone, Advocacy.

If not programs, what options do we have? The answer beyond sentencing reform is none. Decades of discussion have produced modest reductions in the prison population and most of the decrease is probably due to historical lows in crime over the last twenty years, Incarceration.

It's either incarceration or programs or sentencing reform and all have less than stellar results. At least with incarceration, we know that while there, he's not going to inflict additional harm on society.

The overwhelming majority are incarcerated for violent crimes (55 percent per latest USDOJ data) or multi-repeat felonies or have a previous history of violence per federal data.

The 401,288 state prisoners released in 2005 had an estimated 1,994,000 arrests, an average of 5 arrests per released prisoner, Arrests.

What We Need

As long as we are are going to unquestionably advocate for programs while not being concerned about the results, we will continue to have dismal outcomes.

Most advocates don't care (too strong?) if the released offender commits additional crimes; they believe that it's the RIGHT thing to do. They will suggest that recidivism is just one of the many things we should be measuring.

So if your daughter is brutally and sexually assaulted or your brother robbed and psychologically scarred for life or if your neighbor gets burglarized and moves; it's all OK because the offender is employed or using fewer drugs or he is now a good father?

If we are going to go down this path, we need to have a national conference and a series of extremely rigorous studies as to why the results to date have been so disappointing. We need a full understanding of offender behavior, motivations and what it will take to get him not to be a burden to society.

We need to focus on mental health and clinical issues that characterize the bulk of the correctional population. If we were truly brave we would also focus on why so many are coming into the correctional population with mental health, PDST, trauma and child abuse/neglect issues, Crime in America-Mental Health.

We need a research initiative similar to cancer. It should be a national priority.

What I write will anger many; the advocacy of programs is so ingrained in our collective criminological psyche that the mere suggestion that they are not working will cause heads to spin.

I'm not suggesting that we stop programs; I'm suggesting that we need to dramatically improve their components and delivery to get better than marginal results.

By the way, why does the data show that programs for offenders are so underfunded? It's because most who fund them do not believe they work. It's just that simple.

See an article from Vox regarding public attitudes towards offenders and drug treatment documenting the lack of effective treatment, Vox.

The Data

With new data from the Department of Justice regarding a signature program, it seems that offender efforts are on life support. The two premier programs from the federal government have been less than successful.

Second Chance Evaluations

An Evaluation Of Seven Second Chance Act Adult Demonstration Programs: Impact Findings At 30 Months, the program designed to reduce recidivism and improve employment rates through reentry services for individuals who have a moderate-to-high risk for reoffending. The program is rated "no effects." At the 30-month follow up, there were no statistically significant differences in rearrest, reconviction, reincarceration, or employment rates between program participants and control group members (link and summation below).

An Evaluation Of Seven Second Chance Act Adult Demonstration Programs: Impact Findings At 18 Months, describes the impacts of seven programs that were awarded grants under the Second Chance Act to reduce recidivism by addressing the challenges faced by adults after incarceration.

The summation of findings (with minor edits for brevity) is not encouraging:

"The study measured recidivism as involvement with the criminal justice system in the 18 months after that led to re-arrest, reconviction, or re-incarceration. As of 18 months after random assignment, increased access to services for participants did not lead to increased desistance."

"Whether recidivism was measured using survey or administrative data, those in the program group were not less likely than those in the control group to be re-arrested, reconvicted, or re-incarcerated; their time to re-arrest or reincarceration was no shorter; and they did not have fewer total days incarcerated (including time in both prisons and jails)."

"There is some evidence that those in the program group were somewhat more likely to be convicted of a new crime or have probation or parole revoked…" see Second Chance Act.

Additional Data:

The Serious and Violent Offender Reentry Initiative (SVORI) was the federal government's other signature effort using evidence-based tactics and programs to reduce recidivism. It showed few (if any) positive results.

Go to the federal government's Crime Solutions.Gov database and plug in "recidivism." There are few prison or parole and probation efforts marked as "effective," see Crime Solutions.

Per a survey from the Bureau of Justice Statistics, money for treatment for probation caseloads is almost nonexistent. It was 1 percent in 2005. It was 1 percent in 2015. That's not to say that some probationers don't get treatment, but if they do, it comes from external sources, see Crime in America-Probation.

There is no indication that the massive caseload ratios of parole and probation agents have been reduced thus making it impossible to be effective. 100-150 offenders to every parole and probation agent ratios are not unusual.

I am unaware of any data stating that the use of risk instruments to select the "real" threats to public safety is any better than flipping a coin. Risk instruments are the heart and soul of caseload management. Most media reports on offender assessment are negative, see Christian Science Monitor.

Even drug and other specialty courts have inconsistent records, see Drug Courts.

Employment and education programs don't work, Employment.

Recidivism-Most Released From Prison Go Back to Prison

The most common understanding of recidivism is based on data from the US Department of Justice, Bureau of Justice Statistics, stating that two-thirds (68 percent) of prisoners released were arrested for a new crime within three years of release from prison, and three-quarters (77 percent) were arrested within five years.

It can be as high as 84 percent rearrested. I have seen state data approaching 90 percent rearrested.

Within 3 years of release, 49.7% of inmates either had an arrest that resulted in a conviction with a disposition of a prison sentence or were returned to prison without a new conviction because they violated a technical condition of their release; as did 55.1% of inmates within 5 years of release, see Recidivism.

Thus when states claim massive reductions in recidivism, we tend to compare their claims to this (and other) data and shake our heads.

Conclusions

There is much more I could bring to the table, like the additional data offered by Crime Soultions.Gov from the Department of Justice indicating that most rehabilitation programs aren't rated as effective.

As stated in the beginning, I reassert my support for programs for offenders. We must have something beyond incarceration to manage the offender population. Our collective values call for improvements.

Sentencing reform will never dip into the violent and multi-repeat felon categories (the vast majority of the prison population). There are other aspects of sentencing reform that I support (i.e., the legalization or decriminalization of marijuana, specialty courts, keeping young non-violent offenders out of the system), but in this article, we are addressing serious criminality.

There needs to be an immediate call for a national conference on programs for offenders to examine why the results are so disappointing. We need to do better. Cancer results were small in the past but we kept trying, and data now indicate some improvement (i.e., the remarkable improvement in deaths from breast cancer).

But until we figure out why programs for offenders have questionable value, we need to be skeptical of those claiming success.

If we support offender rehabilitation, we need to question results. We need to demand better answers. If we don't, incarceration will be our only answer.

Reformers call for a greater reliance on evidence-based efforts yet ignore the collective results of programs or cherry pick data. We are still waiting for evidence that risk instruments work.

We have advocated for programs for decades. Governors insist that they want to reduce correctional costs. Then why do a tiny percent of offenders have access to programs? Because they don't work.

Second Chance Act (SCA) Adult Reentry Demonstration Programs

Evidence Rating: No Effects

This profile was posted on May 13, 2019

Program Summary

This is a program designed to reduce recidivism and improve employment rates through reentry services for individuals who have a moderate-to-high risk for reoffending. The program is rated No Effects. At the 30-month follow up, there were no statistically significant differences in rearrest, reconviction, reincarceration, or employment rates between program participants and control group members.

This program's rating is based on evidence that includes at least one high-quality randomized controlled trial.

Program Description

Program Goals/Program Components

The Second Chance Act (SCA) supports state, local, and tribal governments and nonprofit organizations in their work to reduce recidivism and improve outcomes for people returning from state and federal prisons, local jails, and juvenile facilities. The act was signed into law in 2008, authorizing federal grants for programs and systems reform designed to improve the reentry process. The SCA grants include funding for Adult Reentry Demonstration Programs, which are designed specifically for adults with a moderate-to-high risk for reoffending. These programs use a strategic, holistic approach to facilitate successful reentry through the creation of a reentry task force comprising relevant agencies, service providers, nonprofit organizations, and community members. Participants receive services based on individualized reentry plans that identify prerelease and postrelease needs. Participants typically work with case managers who ensure that these needs are met throughout the transition period.

Target Population/Services Provided

SCA Adult Reentry Demonstration Programs are designed for individuals who are least 18 years of age; convicted as an adult; were imprisoned in a state, local, or tribal prison or jail; and are classified as at medium or high risk for recidivism. Programs may target a subset of the population such as a specific demographic group (i.e., males only) or specific offenders (i.e., individuals exclusively from jails).Programs use risk and needs assessments to identify appropriate reentry services for each participant. Most programs predominantly focus on case management; however, education and training, employment assistance, substance abuse treatment, mental health services, cognitive behavioral therapy, prosocial services, and housing assistance and supportive services are also offered.

Some of the services are provided directly by the programs. Services not offered directly by the program are provided through formal partnerships on a funded fee-for-service basis or through informal partnerships by unfunded referral. Services provided directly by the program are exclusively for SCA participants, whereas formal partnerships prioritize providing services to SCA participants. Informal partnerships, however, are available to both SCA participants and non-SCA participants on a first-come, first-served basis.

Evaluation Outcomes

Study 1

Rearrests

D'Amico and Kim (2018) found that in the 30 months following random assignment (RA), there was no statistically significant differences in rearrest rates between the Second Chance Act Adult Reentry Demonstrations program group and the control group.

Reconvictions

In the 30 months following RA, there were no statistically significant differences between the groups in rates of reconvictions.

Reincarcerations

In the 30 months following RA, there were no statistically significant differences between the groups in rates of reincarcerations to jail or prison.

Employment Rate in Quarter 8

In the eighth quarter following RA, there were no statistically significant differences between the groups in employment rates.

Source: Crime Solutions.Gov

Reprinted with permission from https://www.crimeinamerica.net.

Contact us at crimeinamerica@gmail.com or for media on deadline, use leonardsipes@gmail.com.

Leonard A. Sipes, Jr has thirty-five years of experience supervising public affairs for national and state criminal justice agencies. He is the Former Senior Specialist for Crime Prevention for the Department of Justice's clearinghouse and the Former Director of Information Management for the National Crime Prevention Council. He has a Post Master's degree from Johns Hopkins University and is the author of the book "Success With the Media". He can be reached via email at leonardsipes@gmail.com.
---