New Pre-Apprenticeship Trades Program Launches at Washington state Women's Prison
By Rachel Friderich, Washington Department of Correctoins
Published: 06/10/2019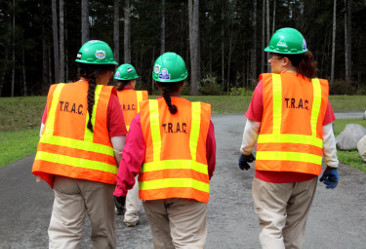 Shawna Norberg looks like any construction worker. Dressed in gloves, a hardhat and a reflective vest, she kneels beside a mat of rebar and talks about what she's learned.

"This is what you call throwing a mat tie," Norberg, 37, says. "You put these snap ties on and then pour in concrete. So now if the concrete cracks the concrete will hold its form."

Norberg is an inmate at Mission Creek Corrections Center for Women. She hopes the skills she's learned will help her become a carpenter when she releases from prison next year. Norberg and eight other women are the first to graduate from the prison's new Trades Related Apprenticeship Coaching (pdf)program, also known as TRAC.

The women began the course in January 2019 and graduated on May 29, 2019.

TRAC is a 16-week pre-apprenticeship program in which participants get hands-on vocational training in trades including carpentry, iron work, construction, craft laborers, cement masons and plastering. At the end of the class, students are able to test for preferred entry into union apprenticeships for each trade.

That's the plan for Norberg. She plans on joining the carpenter's union. It's a sharp contrast to her life before incarceration. She was working as a hairdresser before being sentenced to prison.

Norberg said she's glad she took the TRAC program and she's excited she has the skills to enter a career field that's in high demand.

According to the U.S. Bureau of Labor Statistics (BLS), the 2018 annual median wage for carpenters was $46,590. The BLS expects jobs to grow by eight percent through 2026. Starting wage for a first period carpenters apprentice is $27.55 per hour plus a $16.52 per hour benefit package. The package is set between the Pacific Northwest Regional Council of Carpenters and the Association of General Contractors.

"I would never think in a million years that I could be so proud of myself coming out of prison," Norberg said. "I can get out with a fresh start and have a good job and be a productive member of society. It's beyond everything I could have comprehended."

Requirements and Safety

The Department of Corrections has a strict set of requirements to get into TRAC. Participants must remain major infraction-free for 90 days. They must have already received, or be currently working on, obtaining a GED and have between five and 15 months remaining on their prison sentence.

Additionally, each participant must go through a competitive tryout process. The process includes loading a wheelbarrow with 200 pounds of nails while navigating an obstacle course, carrying 35-pound concrete blocks two at a time, and lifting lumber and plywood. Ultimately, the participants have to be able to lift and carry 80 pounds of rebar for 30 minutes.

They must also complete a math assessment and a scored mock job interview.

Once accepted, participants must complete occupational safety training and obtain more than 460 hours of instruction.

Department officials also take steps to keep class participants, non-participating inmates, and staff safe. Tools are inventoried in the morning, at lunch, and at the end of each day. A qualified instructor supervises incarcerated students at all times during class. Any participant that does not follow classroom rules can be subject to infractions and/or removal from the program.

John Brown is the TRAC instructor at Mission Creek. He's an Army veteran who spent 25 years as a carpenter. Brown had retired, but chose to take the job at Mission Creek because he wanted to make a difference in the women's lives.

"On the second interview, I got to go in and meet the students and I knew right then that I had to do this," Brown said. "It's amazing the transformation you see. It's the phenomenon I experience. It'll catch me when I give them something that I think is a relatively complicated task and they just go in and blow it out. They have grown by leaps and bounds as a group and as individuals and they don't let you down."

Success on the Outside

Though TRAC is a new program at Mission Creek, it's been operating at the state's other women's facility — Washington Corrections Center for Women in Gig Harbor—since 2000, according to the facility's TRAC Instructor Steve Petermann.

Program officials say to date, more than 300 women have completed TRAC program. Brown said women in the TRAC program have gotten trades jobs in a wide variety of fields besides the ones TRAC specifically trains for, including millwrights, pipefitters, elevator constructors, operating engineers and even electricians.

Buffy Henson, 50, is an example of that. Henson's been to prison three times since 2007. The last time she went to prison—in 2015, she took a chance on TRAC. And it paid off. Three days after her release from prison in 2016, a cabinet manufacturing company in Olympia gave her an entry-level job filling glue bottles. She quickly promoted, taking the time to seek mentorship from her co-workers and using the training she received in TRAC. She's now a project engineer at the company.

"I learned a lot about myself," Henson said. "I learned that I was a lot more than what I was giving myself credit for."

She says if it wasn't for TRAC, she might not have the renewed relationships with her family and children, stable housing or the wonderful relationship with her husband that she now has.

"TRAC was just lifesaving for me," Henson said. "I pushed myself harder than I ever had before. Mentally. Spiritually. I just finally wanted enough change that I was willing to do it. It's an awesome program. I'd recommend it for anyone."

Back at Mission Creek, the TRAC students are looking forward to stepping back into their communities. This time with a renewed sense of confidence and commitment to leaving their past behind them.

Annie Fa'Alogo, 30, is releasing just days after she graduates from TRAC. She's been incarcerated three times since 2011.

She says TRAC has given her the self-discipline she needs to be successful this time around. She now has the skills to become a cement mason and has talked to people working in that field who have visited the class. She's determined to not come back to prison.

"It's TRAC that has kept me out of trouble," Fa'Alogo said. "It's helped me build a rapport with the staff here, with the facility. It's helped me be a greater person." Fa'Alogo even took the lead on a few projects while in TRAC. One of those projects aided honeybee conservation.

The Sustainability in Prisons Project keeps beehives at 11 of the state's correctional facilities. Incarcerated individuals look after hives with help from local chapters of the State Beekeeper's Association and have the opportunity to become apprentice or journeyman beekeepers.

Rainwater had gotten into the Mission Creek hives in recent months. So Fa'Alogo and her classmates built raised platforms and a shelter to protect the hives. The site is now known as "Honey Hill."

Several incarcerated women who've completed the program and work in the trades often come back to talk to the current students about their successes. Fa'Alogo wants to come back to be a motivational speaker for a future TRAC class after she is employed.

"It's a good feeling knowing we're working all the way up to this point," Fa'Alogo said. "We're releasing like butterflies. We're learning how to expand our wings and we're going to be out of this cocoon soon. Life is going to be out there waiting for us and it's okay because we'll be prepared and ready for that."

Rachel Friederich is a Communications Consultant for the Washington State Department of Corrections. She earned her bachelor's degree in communications from Central Washington University. She has worked communications and public relations for various Washington non-profit organizations as well as a reporter at newspapers and radio stations across Washington including The Daily World, Yakima Herald-Republic, and KGY-AM in Olympia.
---