First Step Act: Best Practices for Academic and Vocational Education for Offenders
By David B. Muhlhausen & Hugh J. Hurwitz, National Institute of Justice
Published: 07/01/2019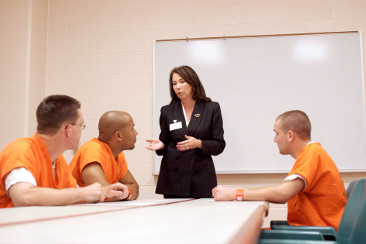 The following is an excerpt from the report "First Step Act: Best Practices for Academic and Vocational Education for Offenders" published by the National Institute of Justice in June 2019.

Background

On December 21, 2018, the First Step Act was passed and included in the Second Chance Reauthorization Act of 2018. Similar to the Second Chance Act of 2007, the 2018 reauthorization aims to improve opportunities for offenders returning to their communities by authorizing the Attorney General to support the provision of funding for adult and juvenile offender demonstration projects at the state, local, and tribal levels.

This report by the National Institute of Justice (NIJ) and the Federal Bureau of Prisons (BOP) of the U.S. Department of Justice (DOJ) fulfills the legislative mandate specified in Title V, the Second Chance Reauthorization Act of 2018, Part NN, Section 3041 (c).

Per Title V, the Attorney General must complete the following mandate by June 21, 2019:

"Not later than 180 days after the date of enactment of the Second Chance Reauthorization Act of 2018, the Attorney General shall identify and publish best practices relating to academic and vocational education for offenders in prisons, jails, and juvenile facilities. The best practices shall consider the evaluations performed and recommendations made under grants made under subsection (a) before the date of enactment of the Second Chance Reauthorization Act of 2018."

Introduction

The American criminal justice system currently holds almost 2.3 million people in 1,719 state prisons, 122 federal prisons, 1,772 juvenile correctional facilities, 3,163 local jails, and 80 Indian Country jails as well as in military prisons, immigration detention facilities, residential reentry facilities, civil commitment centers, state psychiatric hospitals, and prisons in the U.S. territories [1]. At year-end 2016, more than 4.5 million adults were under probation and parole [2]. Most individuals in custody, close to 95 percent, will be released and some will reenter the criminal justice system [3].

A nine-year longitudinal study of 401,288 adult state prisoners released in 2005 conducted by the Bureau of Justice Statistics found high rates of recidivism nationwide over time. Sixty-eight percent of formerly incarcerated state prisoners were rearrested for a felony or serious misdemeanor within three years after release, 79 percent within six years, and 83 percent within nine years [4].

This analysis highlights the critical nature of offender reentry and the pressing need to prepare offenders for release. As offenders reenter society, American communities will need to be able to provide the resources and support necessary to help steer these individuals away from returning to a life of crime.

A key component of reentry is providing useful skills for individuals to drawn upon. As specified in the Second Chance Reauthorization Act of 2018, academic and vocational education are important features of potential reentry success. Prisons (including state departments of corrections and BOP), jails, and juvenile facilities devote extensive resources to educating and training incarcerated individuals. Vocational training can engage offenders in constructive activities, fostering their employability upon release and their ability to successfully reintegrate into society.

The following discussion provides a high-level overview of best practices relating to academic and vocational education for offenders in prisons, jails, and juvenile facilities. Most empirical assessments of offender reentry are conducted to determine whether academic and vocational services reduce recidivism and improve post-release outcomes such as employment and housing. For those areas where best practices have not been identified in the empirical literature, guiding principles for the provision of academic and vocational education will be provided.

Evidence-Based Policymaking

If academic and vocational education programs for offenders in prisons, jails, and juvenile facilities are going to be of value in mitigating high recidivism rates, then the identification of best practices needs to be based on rigorous scientific evidence. A critical review of the scientific literature is a necessary step. The criminal justice policy arena is filled with assertions about what is or is not effective in reducing crime. Many of these assertions 1) confuse correlation with causation, 2) rely on anecdotes, or 3) rely on studies that lack scientific rigor.

The belief that correlation proves causation is most often seen when the presence of two events occurring simultaneously is assumed to be evidence of a cause-and-effect relationship. For example, noting that after a particular state adopted certain prison reforms, crime rates subsequently decreased — without any rigorous scientific analysis — confuses correlation with causation. Such an observation is not conclusive evidence that the policies helped to decrease crime. In fact, the claim is weak evidence, because longstanding crime trends, socioeconomic factors, and other criminal justice policies may have played more significant roles in changing crime rates.

Anecdotal observations are problematic because of the absence of a counterfactual condition — the ability to know what would have happened in the absence of the event or program. When conclusions are based on anecdotes, we may, however unknowingly, selectively observe something that we want to see occur and ignore other important factors that could alter the conclusion. Consider the example of administrators of an in-custody vocational program noting the success of a few graduates who found employment upon release from prison and have not recidivated. While this anecdotal example of offenders successfully reentering society should be applauded, we cannot be certain that the outcome is the result of participation in the program; those individuals may have been simply more likely to be successful finding employment after release. Conversely, we should not judge the same program to be a failure based on an anecdotal example of an individual who immediately recidivated upon release.

Similar to anecdotes, many evaluations of criminal justice programs suffer from selective observation or what scientists call "selection bias." In order to better understand how selection bias undermines causal assertions, consider the hypothetical example of a smoking cessation program. A smoking cessation evaluation that compared volunteer program participates who want to quit smoking to nonparticipants with no desire to quit will very likely overstate the effectiveness of the program.

Before we can judge a corrections program to be effective, we first must understand the importance of how selection bias influences evaluation results. It can be astoundingly difficult to distinguish between what is working and what is not, and nowhere is this predicament truer than when the criminal justice system tries to change human behavior. For example, inmates volunteering to enter an education program may be more motivated to change than inmates not seeking the benefits of the program. Motivation to change and other similar factors are often invisible to those assessing effectiveness. Failure to account for these crucial factors can produce a spurious association between program participation and recidivism outcomes. Unfortunately, the majority of evaluations of academic and vocational programs operating in prisons, jails, and juvenile facilities do not use methods that can adequately account for selection bias. A guide for rigorous evidence of what works in corrections and other criminal justice settings can be found at the National Institute of Justice's CrimeSolutions.gov [5].

Click here to view the full report.

[1] Sawyer, W., & Wagner, P. (2019). "Mass incarceration: The whole pie 2019." National Incarceration Briefing Series: Prison Policy Initiative. https://www.prisonpolicy.org/national/.
[2] Kaeble, D. (2018). Probation and parole in the United States, 2016. Washington, DC: Bureau of Justice Statistics. https://www.bjs.gov/content/pub/pdf/ppus16.pdf.
[3] Bureau of Justice Statistics. Reentry Trends in the U.S. https://www.bjs.gov/content/reentry/reentry.cfm.
[4] Alper, M., & Durose, M. R. (2018). 2018 Update on prisoner recidivism: A 9-Year follow-up period (2005-2014). Washington, DC: Bureau of Justice Statistics. https://www.bjs.gov/content/pub/pdf/18upr9yfup0514.pdf.
[5] For more information, see National Institute of Justice, CrimeSolutions.gov, https://www.crimesolutions.gov/.
---