California Prison Reform, Regressing Rehabilitation - Part 1
By Adam Affrunti, San Bernardino Police Department
Published: 12/09/2019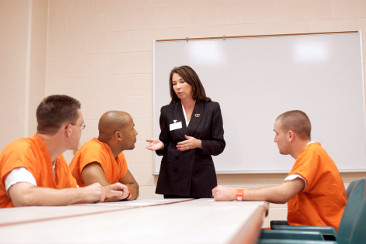 Preparing to walk across the stage and receive his graduation certificate, Jose Becerra cannot help but feel bittersweet. While incredibly proud of his ability to overcome his delinquency and successfully rehabilitate himself, he also laments. What if his brother had volunteered for the microchip implant program when he was released from prison; maybe he wouldn't have reverted to his old ways, leading to his death in 2019.

Looking back on the last three years of his life, Jose recalls how difficult it was to break away from the negative influences he had grown up with. Though the road ahead is challenging, he's confident he would have faced the same grim fate as his brother, and so many other released offenders, if it were not for the implant program. While incarcerated, the prison system provided Jose with structure and discipline. There, he started an evidence-based rehabilitation program to assist him with life skills and frankly, to pass the time. Just ten years earlier, Jose watched his brother when he was released quickly spiral because he didn't have the structure and discipline to complete a similar program. His brother, though, also didn't have a chance to support the skills-building process using a program that had just been introduced.

Committed to successful rehabilitation and looking for a reason to shorten his stint in prison, Jose volunteered for the microchip implant program. Jose was implanted with a rice-grain sized microchip and released from prison three months early. He knew his location would be monitored and recorded. He also knew he was not allowed to go back to the barrio he grew up in, associate with his old crew, or ingest any illicit narcotics. If he did, he'd be subject to house arrest for violating any of these conditions. Most importantly, Jose knew the microchip was the only way for him to break the cycle of criminality and become a productive part of society.

Jose's story takes place in the near future; one that uses implantable tech to support both the release of prisoners, as well as their rehabilitation. Although some might object to "chipping" to track the movements of any person, the alternative is often what we saw with Jose's brother. Without the structure and discipline of prison and the mandated evidence-based rehabilitation programs, released offenders more often than not struggle and fail to become productive members of society. Nearly two-thirds of released offenders slip right back into the same behavior patterns of substance abuse and criminal conduct that resulted in their incarceration to begin with resulting in their re-incarceration within three years of release (Lofstrom, 2014). In our search to find ways to support released offenders and help them obtain the tools needed to reintegrate into the community, it is time to consider how implantable tracking technology can help.

History of Prison Reform

In the 1980s and '90s, California was building and filling state prisons as the nation was battling the war on drugs. The overall sentiment of Californians was to incarcerate offenders (Null, 2015). In the early 2000s, State leaders began to notice the immense cost, both fiscally and socially, associated with incarceration and began to pull back on prison building (Braz, 2006). With prison building project proposals not coming to fruition, prison populations surpassed the occupancy they were built to handle, which led to Brown v. Plata, 563 U.S. 495 (2011), a federal lawsuit that mandated a prison population decrease. This lawsuit and the community's shifting sentiment away from incarceration led to a noticeable increase in prison reform.

In 2011, Governor Brown signed Assembly Bill 109 into law in an effort to comply with the Plata decision. Referred to as "realignment," AB 109 shifted the responsibility of imprisoning and monitoring lower-level felons from the State to the counties. This effectively eliminated law enforcement's ability to send supervised offenders back to prison on technical violations, and forced county jails to house offenders for much longer than previously expected (Petersilia, 2013).

As AB109 shifted the responsibility of these offenders onto the counties; it also shifted the overcrowding. By 2014, there was a 16% increase in county jail population, which led to court-ordered population caps (Grattet, 2017). Proposition 47, passed by the voters in November 2014, provided relief to the jail system through changes in criminal statutes (Grattet, 2017). By reducing many property and narcotics offenses from a felony to misdemeanors, Prop 47 reduced the average daily jail population from nearly 83,000 to just under 73,000 (Grattet, 2017). This, however, shifted the burden to probation officers, providing supervision of released offenders.

In 2012, prison officials estimated an additional 40,000 to 60,000 prisoners would be released on some form of supervised status as a result of realignment (Petersilia, 2013). Though by 2019, AB109 only sifted 40,500 inmates out of state prisons (Canon, 2019), Prop 47 reduced arrest booking by 23.5% in the first four years (Grattet, 2017). By shifting these offenders from prisons to probation, realignment reduced overall costs associated with correctional control, which is illustrated in table 1. Unfortunately, the social cost associated with realignment is increased recidivism.

Check back next week to continue reading!

Adam Affrunti is a 17 year veteran with the San Bernardino Police Department currently serving as the Administrative Services Captain. Adam obtained his undergraduate degree in Criminal Justice from California State University San Bernardino, an MBA from the University of Redlands and is a POST Command College graduate. During his tenure, Adam has worked a myriad of assignments to include SWAT, Patrol, Gang Intel, Robbery/Homicide, and Administration.
---