California Prison Reform, Regressing Rehabilitation - Part 2
By Adam Affrunti, San Bernardino Police Department
Published: 12/16/2019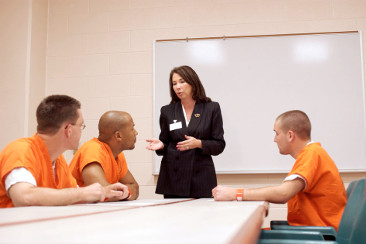 Continued from last week.

Recidivism and Evidence Based Rehabilitation Programs

About 34% of offenders co-exist with a substance abuse and/or mental health issue which is substantially higher than a 1.3% rate in non-offender populations (Peters, 2017). This co-occurrence has led to the development and implementation of evidence-based rehabilitation programs in the United States. These programs are behavior modifying and include "detoxification, psychiatric consolation to establish a regimen of psychotropic medication, comprehensive assessment…confrontation, development of cognitive skills and vocational training" (Peters, 2017). Often, inmates will start rehab programs and counseling while incarcerated with the expectation they continue once released. Unfortunately, this is not always the case.

These programs, however, have proven to be effective when strictly complied with. In one study, the recidivism of treated offenders was reduced by 73% compared to a control group (Peters, 2017). Another study identified that discipline and a structured environment impacted compliance with treatment programs (Serobatse, 2014). Unfortunately, as a result of AB 109 prison realignment, offenders are removed from the structured environment of prison and forced into the atmosphere that influenced their criminality to begin with. In more cases than not, this results in new offenses and a return to jail or prison.

Recidivism is a measurement of criminal offenders returning to incarceration after being released. California has experienced one of the highest recidivism rates in the nation, "with more than 65 percent of those released from California's prison system returning within three years" (Recidivism Rates, 2019). Realignment seems to have effectively reduce recidivism by making "it difficult to return released inmates to prison," reducing recidivism from 61% pre-realignment to 22% in 2013 (Lofstrom, 2014). Though appearing effective, the California Police Chiefs Association has identified AB109 and Prop 47 as having "a significant impact on law enforcement's crime reduction efforts and placed an increased strain on local services" (California Police Chiefs Association).

Viewing realignment from the perspective of recidivism provides the perception that it is effective. However, by hampering law enforcement's ability to re-institutionalize offenders, in essence, it reduces the offender's ability to receive evidence-based therapy in a structured environment. Further evidence also shows realignment did nothing to stop offenders from committing both property and violent crimes, which increased 7.6 percent and 3.4 percent respectively post-realignment (Lofstrom, 2013). This has undoubtedly had a negative impact on both society and the offenders. Turning to technology, the Criminal Justice System might find a solution.

Microchip Implants Are the Solution

Microchip implant technology has expanded from a passive data storage device to a method to transmit locations via GPS, locking and unlocking electronic devices, biochemical analysis, and medication delivery (Adams, 2017). The CEO of Three Square Market, a 20-year veteran of the tech industry, implanted himself and 50 of his employees in 2017 (Weiss, 2018). Not only did this provide conveniences but also enhanced the organization's security. By allowing staff to unlock doors and electronic equipment, Three Square Market took it one step further by implementing AI and geo-fencing. An employee is unable to access their computer system unless they have unlocked their office door and are actively within the parameters of their geo-fence (Weiss, 2018). As one might imagine, this technology could overcome many of the shortfalls of prison realignment.

For instance, a microchip implant program could include GPS and geo-fencing parameters. These parameters would be customized for each offender based on controlling charge, criminal history and propensity to reoffend. The individualized geo-fence could prohibit a released offender from contacting negative influencers, such as gang territory and liquor stores. More importantly, geo-fencing could require the offender to be in a pre-determined location, such as a rehabilitation treatment center.

With an established network of docking stations, the offender would be required to "dock up," literally making a physical bond between his embedded microchip and the docking station in his therapists' office or AA meeting hall. A similar docking station could be installed in the offender's home to secure a "house arrest" if they violate the terms of their release, eliminating the staff and resources traditionally required to institutionalize the offender.

Using biochemical analysis in conjunction with medication delivery, the microchip implant can detect and counteract any ingested illegal substances and provide 100% compliance with psychotropic medication regimens. In fact, Serobatse (2014) recommended the use of long-acting injectable treatments as an effective way to rehabilitate those suffering from psychiatric issues. Leveraging microchip implant technology could be the key to providing offenders the tools and skills needed for successful rehabilitation and reintegration into society. Unfortunately, something this logical is never easy.

Check back next week to continue reading!

Adam Affrunti is a 17 year veteran with the San Bernardino Police Department currently serving as the Administrative Services Captain. Adam obtained his undergraduate degree in Criminal Justice from California State University San Bernardino, an MBA from the University of Redlands and is a POST Command College graduate. During his tenure, Adam has worked a myriad of assignments to include SWAT, Patrol, Gang Intel, Robbery/Homicide, and Administration.
---