Continuous Quality Improvement in Correctional Health Care
By Jan Jolly, BSDH
Published: 12/30/2019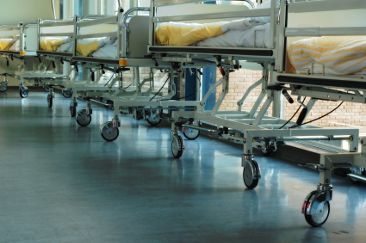 Whether health care is delivered in a large urban hospital, a rural community clinic, a county jail, or a state prison, monitoring the quality of that care is essential for continued success and positive patient outcomes. In our state and federal prisons, meeting the standards set by accreditation agencies, state legislation, and internal policies regarding quality improvement is one of our greatest challenges. But it is a challenge that provides untold rewards when met with a positive attitude and enthusiasm for overcoming barriers to health care improvement.

A robust continuous quality improvement (CQI) program provides an opportunity for every correctional medical department to monitor and improve the services they provide. Following a structured process to evaluate each area of the jail or prison health care services allows for early identification of areas that need improvement. Once identified, a CQI program is the perfect venue to fix internal process weaknesses and improve patient outcomes before they become systemic or lead to grievances and lawsuits.

The scope of an effective CQI program can be broad or narrow. Many facilities have programs that are managed at a corporate level with every facility conducting a standard list of studies each month. But to be truly successful, each facility needs to expand its CQI program to identify its own unique problems. For example, a women's prison needs to conduct a separate set of studies than a male juvenile facility. Challenges at a maximum-security unit differ from those found at a boot camp. As noted in an article on the NCCHC website, "Simply studying and restudying areas that continuously meet or exceed established thresholds does not meet the intent of this standard" (NCCHC A-06). Consider the following list as a starting point for a CQI program.
Adverse patient events
Case management / continuity of care
Contract compliance
Dental
Emergencies
Environmental inspection reports
Grievances
Medical records
Infection control
Laboratory
Medication errors
Mental health
Mortality reviews
Peer review
Pharmacy
Prompt delivery of care
Radiology
Utilization review
In addition to these common areas, each facility should identify, study, improve, and monitor any service that falls short of the standard of care expected in the community.

To monitor and improve identified deficiencies in the delivery of care requires a committee of diverse disciplines–physicians, nurses, dentists, records clerks, schedulers, physical therapists–to develop action plans for quality improvement. Depending on the issues identified, staff members who work at the front line of care and licensed providers, who provide care as well as oversight, must be involved. It is a waste of time for one administrator to conduct a study and simply report it in a set of meeting minutes. With the supervising physician as captain, the CQI committee must make a team effort to identify problems and develop a plan for improvement.

Identifying weaknesses in health care services that are high-risk, high-volume, or problem-prone by regular monitoring of standard reports represents ground zero for an efficient CQI system. These should become the basis of each meeting of the CQI committee. That committee should monitor those areas for negative trends such as grievances in a certain area rising or the volume of A1C tests going down for three consecutive months. When these types of reports are reviewed by a group of concerned staff members each month, everyone involved becomes aware of potential threats to delivery of optimal care and can develop action plans to correct the problems before they become systemic.

Many states have codified requirements for CQI programs in their prisons while others have developed policies and procedures to ensure compliance. These provide clarity of expectations, continuity of the program in an environment of high personnel turnover and ensure third-party monitoring. However, a healthy CQI system requires providers and administrators who personally believe in the CQI process and have a deep desire–a mission–to make the delivery of high-quality health care to offenders their daily goal. Without buy-in from leadership–wardens, health services administrators, physicians, nurse practitioners–a CQI program can become a dreaded chore rather than an opportunity to improve.

When "inmates" cross the thresholds of our prison medical departments, they become "patients." Those patients deserve and are, indeed, legally entitled to the best health care we can provide. A vigorous CQI program is the proven way to ensure that we identify potential problems early, that we implement a plan to correct the problem, that we monitor the outcome so that the problem does not recur, and that our patients continue to receive the high-quality of care they need.

Bibliography
https://www.ncchc.org/continuous-quality-improvement-program
https://www.tdcj.texas.gov/divisions/cmhc/docs/Quality_Improvement_Plan_FY16.pdf
https://www.pewtrusts.org/en/research-and-analysis/articles/2018/06/21/how-states-fortify-prison-health-care-quality-monitoring-systems

Jan Jolly retired as the Director of Quality Improvement and Training with Correct Care Solutions, the medical contractor for the Arkansas Department of Correction, in 2017 after serving in that capacity for over ten years. She is now a freelance writer for the dental and correctional industries.
---