HiSET Graduation at Suffolk County House of Correction
By Olivia Smith, Suffolk County House of Correction
Published: 01/13/2020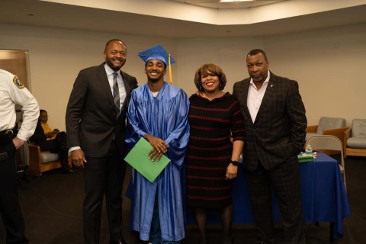 At the Suffolk County House of Correction in Boston, Massachusetts, the Adult Secondary Education/High School Equivalency Program prepares students with, at minimum, an 8th grade reading level to earn their high school equivalency diploma or HiSET, which is equivalent to a GED. The students are prepared for the five areas of the HiSET test: language arts, reading, science, social sciences and mathematics. October 30, 2019, a graduation was held for 27 students who worked diligently to pass their HiSET exams or receive their high school diploma.

(Photo From Left to Right: Michael Curry Esq., a graduate, Superintendent/Special Sheriff Yolanda Smith and Sheriff Steven Tompkins)

Recently, the men and women proudly wore their cap and gowns, while receiving their diplomas from Suffolk County Sheriff Steven Tompkins, House of Correction Superintendent/Special Sheriff Yolanda Smith and the keynote speaker, Michael Curry, Esq., Deputy Chief Executive Officer at Mass League of Community Health Centers. Family and friends of the graduates were in attendance and were all so proud of their scholars; they smiled, and they cried as the graduates confidently marched into the room to be honored. Much like the logistics of a traditional graduation, the graduates were fitted for their caps and gowns the prior evening and they rehearsed walking into the room by marching to Pomp and Circumstance several times. Jim Dizio, Suffolk's Education Director wanted the day to be special and he wanted it to be pivotal in the transformation of the graduates' lives. Judging by the happiness in the room, he and his staff succeeded in what they sought out to do.

In a recent speech, Sheriff Steven W. Tompkins once talked about The American Dream, which is the idea that anyone can be guaranteed success and prosperity with hard work, regardless of where they come from, or what social class they were born into. However, it is never truly that simple when barriers such as poverty, homelessness, mental illness, and substance abuse are the realities that many people face in today's society. 70% of the population that is incarcerated at the House of Correction has some type of relation to substance abuse disorder, mental illness or homelessness. With that, also comes a cost to properly take care of the men and women who are mandated to our custody, which is nearly $47,000 per person. The Sheriff's Department is designed to reduce recidivism by rehabilitating these people and returning them back into the community in a much more productive manner.

"According to a 2009 report from the Correctional Association of New York, a college education has become one of the most valuable assets in the United States; a bachelor's degree is worth more than $1 million in lifetime earnings. Thus the presence (or absence) of a degree has far-reaching implications for the employment opportunities available to formerly incarcerated people reintegrating into society. Gainful employment is one of the defining characteristics of successful reentry, and successful reentry and readjustment into society ultimately lower the likelihood of an individual reverting back to illegal activity" (Gorgel, Sponsler 2011).

In general, at the House of Correction, the average reading level of an inmate or pre–trial detainee is slightly higher than 7th grade level. The average math ability is at a 5th grade level. We give the incarcerated men and women the opportunity to take classes in many different areas of study and at several different education levels. Some of the classes that are provided are Literacy I which is a course for beginning readers and for students reading at or below the fourth (4th) grade level. Most LIT I students have had difficulty in the past learning how to read, to spell, and to write. This course is designed for them to successfully develop basic skills. There is also Literacy II, a course for students who test at the 4–8th grade reading level. In this course, the teacher works with students to strengthen their basic skills in math, reading and language. Generally, the class works toward preparation for a GED program. LIT II refreshes basic skills and helps develop good study habits.

There are other classes such as; Special Education, English for Speakers of other Languages (ESOL), Parenting classes, Freedom from Violence, Basic Keyboarding, Computer Literacy, Computer Repair, Desktop Publishing, Writing Workshops, Job/Search, Resume Writing, Tutoring, Printing/Graphic Technology and Food Sanitation. To help sustain all of these programs, the department partners with agencies like Bunker Hill Community College, the Boston Public Schools, Boston Medical Center, the Boston Center for Youth and Families, the Phillips Brooks House at Harvard, Boston and Youth Options Unlimited Boston, which focuses on post–release services for younger inmates.

During the graduation ceremony, Michael Curry gave the students an exceptional speech that left many people in the room feeling inspired. He talked about how he has faced many of the same issues that the men and women sitting in front of him have also experienced. He grew up in a single-parent household in Roxbury, Massachusetts, where he dealt with poverty, and witnessed violence and crime at a young age. He wanted the class of 2019 to know that it is not his degrees and accomplishments that he is most proud of. Instead, it is being able to overcome all of those obstacles that served as commonalities between him and them. Curry's speech was based on a quote by Fredrick Douglas- "It's not just the heights your reach, but the depth from which you come."

Before ending his speech, he left the graduates with some tips that ultimately could be useful to everyone that was in attendance.
Take inventory on yourself, take accountability for yourself, Curry said. Know what your challenges and weaknesses are so that you can figure out how to overcome them.
Plan; do not ever trip through life. The best way to be successful is to plan it.
Anticipate your role blocks, everything is predictable. Start to think about all of your challenges, and then begin to plan, plan to win.
Keynote speaker, Michael Curry left the graduates with valuable parting words, "It doesn't matter where you graduate from, what is important, is that you did the work to get to this point. You are wearing a cap and gown, which means you, struggled to get here- be proud!" Congratulations to the Class of 2019, each of you has positioned yourselves for better educational opportunities and for better employment opportunities upon release. Remember, the work has just begun and doors for employment, and other educational opportunities have just opened- keep pushing towards greatness!

Reference:
Laura E. Gorgol and Brian A. Sponsler, "Unlocking Potential: Results of a National Survey of Postsecondary Education in State Prisons," Institute for Higher Education Policy, 2011.

Olivia Smith is currently employed at the Suffolk County Sheriff's Department, and is a part of the External Affairs Department at Nashua Street Jail. She serves as the Public Information Officer. In her position, two of her main responsibilities are creating the content for the department's monthly newsletter, Common Ground and managing all of the department's social media platforms. Writing has always been Olivia's passion; she is grateful that she is able to do what she loves as profession.

Olivia graduated from Bryant University in 2017 and holds a BA in Communication.
---