The Case for Geriatric Prison Facilities
By Jan Jolly, BSDH
Published: 01/13/2020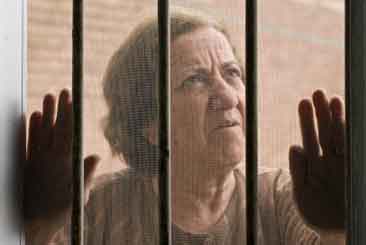 He looks like your grandpa—the stooped, gray-haired man in the jumpsuit, shuffling down the concrete hall with his walker. She looks like your grandma—the shriveled woman, hunched in her wheelchair, waiting for her chow tray, her mind years away. But they are not your grandparents. They are felons—convicted of crimes committed while in their 20s—over 50 years ago. No longer a threat to society and having already served decades behind bars for their crimes, they are the fastest growing, most expensive, and least likely to reoffend of all the inmates in prison today.

With Baby Boomers entering nursing homes in record numbers, the same generation of men and women serving prison sentences suffer from similar age-related maladies: dementia, incontinence, broken hips, diabetes, heart failure, strokes.

Society builds prisons for community protection and incapacitation—to house the young and the strong, not the weak and infirm. Prisons were never meant to be nursing homes, yet they are rapidly becoming just that.

Defining "elderly"

Researchers into the problem of elderly inmates have many points of agreement. One is the definition of "elderly" when speaking of inmates. Researchers agree that chronological age of 50–55 years old represents the age when inmates should be classified as elderly. Why so young? Researchers agree that an inmate's physiologic age ranges from ten to fifteen years older than their chronological age. Inmates who are 60 years old display physical and mental infirmities more common for a 75-year-old; those age 70 function as though they were 95. This is due to poor medical care and nutrition prior to incarceration, substance abuse, smoking, and the stress and rigor of prison life (Bagaric 968).

Legal obligation

Inmates, including the elderly ones, under the care of the state and federal prison systems have a legal right to medical care that meets community standards.

In 1976, the United States Supreme court guaranteed the right of incarcerated persons to have access to medically necessary care. Most states have their own policies and administrative directives that require the delivery of necessary health care to all inmates in their custody.

Prisons struggle to accommodate these necessary health care needs in several ways. Elderly inmates cannot climb into an upper bunk; restrooms and many doorways are not wide enough to accommodate wheelchairs or walkers; chow halls are located long distances from barracks. They suffer from the same maladies as their free-world counterparts: heart disease, dementia, diabetes. They are unable to complete activities of daily living (ADLs) such as bathing, dressing, and feeding themselves. Correctional officers do they have the time or training to assist with ADLs.

Demographic growth

Nationwide, elderly inmates are the fastest growing segment of the incarcerated population.

Bagaric reports that a "2015 report by the Office of the Inspector General notes that 'inmates age 50 and older were the fastest growing segment of its [federal] inmate population'" (971). Bedard et. al report that, from 1990 to 2009, the national prison population doubled while the number of inmates aged 55 or older increased by 300% (918). Most state systems mirror this trend.

Solutions

Solutions to the looming problem of caring for elderly inmates range from compassionate release programs, to reforms of the sentencing guidelines, to establishing privately-owned prison nursing homes, to remodeling current prison facilities to accommodate the needs of this population. Each solution has its advocates and detractors.

Compassionate release programs affect a limited number of inmates due to the nature of their crimes and a lack of family or friends willing to take custody of them. Reforming the criminal justice system's sentencing guidelines involves multiple layers of legislative and judicial reform. Establishing private nursing homes, while certainly possible, would require investments of money and time by private citizens and would be a hard sell for communities and investors. The most practical solution is the retrofitting of one facility to house most, if not all, geriatric inmates. This solution provides many positive outcomes.

The cost of remodeling an existing building would require minimal investment by correctional departments. Installing handrails, grab bars, shower chairs, improved lighting, and handicap-accessible cells and beds will be far cheaper than building an entirely new facility. Housing the elderly inmates in one facility will keep costs manageable and allow specially trained officers, nurses, and physicians to focus on eldercare without the distractions of the day-to-day care needed by a younger population. Many states already have successful geriatric prison units that could be used as models for others.

For most administrators and legislators, the cost of remodeling a current prison facility would be the biggest drawback. Certainly, there are costs involved in making a prison handicap accessible, removing top bunks, and providing special training for officers and medical staff. These costs will pale in comparison to that of remodeling every state and federal prison to accommodate the growing population of inmates over 55 years of age.

Some administrators argue that the older inmates have a calming effect on the younger ones and that removing them from their younger peers could have a detrimental effect on the elder's mental stability. If this is true, certainly each inmate should have the choice of staying in their current housing assignment or moving to the geriatric unit. Administrators should respect those wishes as long as remaining in the general population does not affect the elderly inmate's safety. Many elderly inmates become victims of the younger ones— assault, rape, harassment, extortion, theft, and humiliation are common (Bagaric 1012). Moving them to a secure, smaller facility would be a safer option than keeping them with the general population.

Conclusion

Proponents of geriatric prisons argue that "centralizing aging populations enhances prisoner safety and make providing care easier and less costly (Williams et al., 1478)." While taxpayers provide funds to run state prisons and expect wise use of their dollars, prison physicians and nurses have ethical and legal obligations to provide necessary care, regardless of the cost. Retrofitting a prison to accommodate the elder care needs is an idea whose time is now.

Jan Jolly retired as the Director of Quality Improvement and Training with Correct Care Solutions, the medical contractor for the Arkansas Department of Correction, in 2017 after serving in that capacity for over ten years. She is now a freelance writer for the dental and correctional industries. 
---