Coronavirus And Crime - Gun Violence Increases - 82 Police Officers Dead
By Leonard A. Sipes, Jr.
Published: 05/04/2020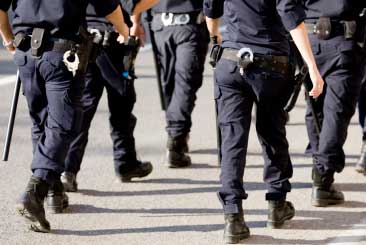 Every police administrator in the country and beyond is pondering an appropriate response to the Coronavirus pandemic. Restrictions are being lifted throughout the country.

Police officers are dying from the virus. Thousands more are out sick.

Crime is moderate or declining "at the moment" for many cities. For some, violence and commercial crime continues. Three out of four Americans are under some form of a state or local lockdown.

Concern is expressed regarding the potential for violence, political extremism, fraud, domestic violence, child abuse, property crime, retail burglary, looting, and theft.

What's below is an overview of media coverage of national and international crime and responses.

Gun Violence Increases During Pandemic

With businesses shuttered, social gatherings forbidden, and city streets largely empty, sheltering-in-place has produced one welcome side effect: Most types of crime, from drug offenses to robberies, have dropped considerably.

But data analyzed by The Trace reveals that there is a major exception: gun violence. In Dallas, for example, the city's stay-at-home order has done nothing to slow shootings. Between March 24, when the order took effect, and April 25, overall violent crime was 14 percent lower than average. But the city recorded 67 shooting incidents — 46 percent more than the average for this time of year. In one, a man was found dead of multiple bullet wounds early on a weekday afternoon outside a popular public recreation center shuttered to stop the virus's spread.

An analysis of data collected by Gun Violence Archive, a nonprofit that tracks shootings in close to real time, shows more than 2,000 gun deaths in the United States between March 1 and April 19 — a 6 percent increase over the same period in the past three years, The Trace.

"This pandemic has not changed the behaviors of our most violent offenders," said Kristen Metzger, a spokesperson for the D.C. police, in an email. "They continue to resolve disputes by shooting each other, even during the mayor's stay-at-home order."

Police And Correctional Officers Are Sick Or Dying

According to The Fraternal Order Of Police, 82 police officers have died from exposure to the Coronavirus, FOP. Thousands more are sick and quarantined.

The Detroit Police Department has been one of the U.S. law enforcement agencies hardest hit by the coronavirus, with nearly half the 2,800-person agency sidelined. The head of the homicide department died, as did a 911 operator and a volunteer police chaplain, The Crime Report.

In New York City, one in six police officers are out sick. Some 2,314 uniformed members and 453 civilian employees have tested positive for Covid-19, and 19 employees have lost their lives as a result of the virus, CNN.

The Marshall Project: The number of LAPD employees who have tested positive for COVID-19 rises. So does the number of officers no longer in quarantine, LOS ANGELES TIMES. New Jersey will allow police recruits, retired officers, to fill gaps left by cops sick or in quarantine, NORTH JERSEY.COM. Positive COVID-19 cases continue to rise within the NYPD. STATEN ISLAND ADVANCE.

There are over 4,500 positive tests among corrections employees nationwide, PRISON POLICY INITIATIVE.

There are dozens of media reports documenting the impact of Coronavirus infected police and correctional officers.

Law Enforcement And Justice System Budget Cuts Are Coming

An article based on an analysis from a Police Executive Research Forum report from 2009 analyzing the impacts of the last recession, budget cuts are inevitable. Crime rose for 44 percent of responding agencies, Previous Recession Crime and Budgets.

Firearm Sales

The Federal Bureau of Investigation said it did 3.7 million background checks for firearm purchases in March, the most ever recorded in a single month by the bureau and over 1 million more than March 2019, USA Today

For The Moment, Crime Isn't Going Up For Most Cities

Probably the most authoritative report comes from USA Today after analyzing data from fifty-three law enforcement agencies. Crime is down. So are traffic stops. Domestic violence is rising along with noise complaints, USA Today.

Reports from around the country (and the world) indicate that crime isn't going up for most (not all) places: Dallas, Portland OR, Philadelphia, Sacramento, San Francisco, Southern California, Bangor ME, New Mexico, Business Insider (Crime down in NY and LA but crime up in Chicago), Georgia, Boston, and Los Angeles.

Police chiefs are directing officers not to arrest people for minor offenses and instead cite and release them, the Wall Street Journal reports. The Journal states that arrests are down in cities throughout the country.

But There Is Rising Violence Or Commercial Crime And Vehicle Theft In Some Cities

Car thefts and store robberies are spiking in some municipalities even as crime overall — especially violent offenses — dropped in 10 of the 20 most populated cities. Car theft is one exception, at least in some places. In New York it's surging, up 49% for the week ended April 12 as compared to the same period a year earlier. It's risen 53% over the past month and more than 63% year to date. Car theft was the only major crime to show an increase in Los Angeles, rising 11.3% for the 28 days ending April 11 from the previous period.

Burglaries are also on the rise in New York, up 26% year-to-date as compared to the same period in 2019. In the week ended April 12, they more than doubled in the southern half of Manhattan, where many stores are now unoccupied. Burglaries jumped almost 34% in Denver in March amid a growing number of break-ins at marijuana dispensaries. In Philadelphia, burglaries were down 6.7% overall, with residential break-ins falling 25% as more people stay home, but unoccupied businesses were hit hard, with commercial burglary rising 71%, Bloomberg.

Cops across the United States are struggling to maintain law and order as desperate looters and defiant partiers continue to ignore shelter-in-place orders given by their local governments. Outlets report looting in all forms as small businesses seek innovative ways to protect their possessions and as local governments look to work with private companies to create potential air patrol options. Violent crime has ticked upward in Detroit, just as police there are suffering from a rash of sickouts due to COVID-19. DETROIT NEWS.

Even though the Fresno Police Department says there are far fewer people out during the shelter-in-place order, officers say it's clear: crime is not staying home. Officers have been called to 30 more shootings than last year, when no emergency order was issued. Overall, violent crime is slowly rising, and with more than 400 inmates released in Fresno County due to state orders, officers don't expect their job to get any easier – even when the pandemic ends, ABC30.

Vancouver police have arrested 40 suspects in connection with commercial break-and-enters at shops shuttered by COVID-19. The arrests come following an uptick in commercial break-and-enters last month after physical-distancing measures were ordered by health officials in an attempt to halt the spread of the virus, Vancouver Sun.

Vancouver police say they have seen a 30 percent spike in robberies of people in the streets and of convenience store employees since the coronavirus pandemic hit the city in mid-March, Vancouver.

Most businesses are shut down right now, but the Charlotte-Mecklenburg Police Department said break-ins are spiking across the city. Commercial burglaries are up 13% from this time last year. Commercial robberies jumped 34% in the same time frame, Red State. Officials in Chicago, Illinois, furious about consistent gun violence during the pandemic, plead with residents to stop shooting one another, CHICAGO TRIBUNE.

Police in major cities across the US are reporting upticks in car thefts since the start of the pandemic in mid-March, even while many other crimes have dipped in those same cities, CNN.

Murders in NYC surge for a second week in a row as coronavirus lockdown continues, Fox.

In New York City, overall crime is down by 30%, but commercial burglaries are up 100% year-to-year. Police say criminals are targeting stores shuttered in the wake of the coronavirus, leading to a huge spike in commercial burglaries, MSN.

Subway crime in New York has maintained abundant over the last month despite a huge drop in use due to coronavirus lockdown measures, according to a report. Use of the transport has plummeted due to the pandemic, with weekday subway ridership in the city at just under 10 percent of pre-crisis levels, according to NYPD statistics obtained by The New York Daily News. Despite this, crime on the network remains prevalent with 173 major felonies reported in the subway throughout March, the report said. The number is only a slight decrease from the 179 the department reported during the same month last year.

Amid empty streets and shuttered shops, crime rates in some of the biggest U.S. cities have dropped, with some exceptions, Bloomberg reports. Car thefts and store burglaries are spiking in some municipalities even as crime overall — especially violent offenses — dropped in 10 of the 20 most populated cities, more than halving in San Francisco alone.

If you thought crime would have taken a dip since the City of Memphis issued its Safer at Home order, you'd be wrong. Since the order took effect March 24, crimes like robberies and carjackings are up. "Violent crime is only slightly up, but we're definitely concerned about it," Memphis Police Director Michael Rallings said, WREG.

New York-Burglaries of grocery stores and bodegas rose 400% annually in the March 12–31 period. Thefts at restaurants nearly doubled in the same period. Most thieves pilfered cash, electronics, and consumables like food and alcohol—not luxury handbags, Morning Brew .

In the rush to release defendants from jail, there was no plan regarding what to do with habitual criminals, according to Houston Police Chief Art Acevedo, who noted that burglaries in the city had spiked 20 percent as of April 2. Other areas have experienced similar results, with the Wall Street Journal noting that reports of crimes against businesses are up by 75 percent in New York City since the coronavirus shutdown.

"The increase in calls suggests the stay at home order is not being adhered to as closely as it was in prior weeks," the bureau said in a statement. One of the most eye-catching changes in criminal behavior since the COVID-19 pandemic took hold in Oregon is a shift in burglaries: figures show burglars are hitting offices and businesses, many of which are closed to preserve social distancing, while the number of residential burglaries have declined sharply, Portland-Week.com.

Fewer people in Washington, D.C., are being robbed, but more are being assaulted as law-abiding citizens and criminals alike adjust to empty streets, closed shops and altered routines that are throwing established crime patterns into disarray, reports the Washington Post. Property crime is down 27 percent, though some neighborhoods are seeing surges in break-ins targeting parked vehicles. The number of robberies has plummeted by more than a third. Violent crime has gone down 16 percent since early March, when residents began self-isolating. Yet assaults, including shootings, are up. The number of homicides is keeping pace with 2019, which ended with a decade-high. "I think that for our most violent offenders, this pandemic has not changed their behavior at all," said Police Chief Peter Newsham.

In Detroit, there have been 67 homicides this year, a 68 percent increase over this time last year, and 173 nonfatal shootings, up 37 percent, reports the Detroit News.

Shootings are up for March in Jacksonville, news4jax.

Crime is up in St. Louis, KSDK.

There are still more people dying in Baltimore from gunshot wounds than the coronavirus pandemic, a trend that "social distancing" hasn't slowed down very much. It's gotten so bad that the mayor felt compelled to beg the gangs to stop shooting people so they can save hospital beds for the COVID-19 patients.

…..even as the Covid-19 pandemic unfolds, crime in Philadelphia has increased overall, despite a slight dip during the city's first full week of shutdowns, City Journal.

Car theft has rocketed by up to 60 percent in parts of the UK as experts warn British motorists their vehicles are at greater risk during the lockdown, Daily Mail.

While it's still early to get a broad picture of how the pandemic is affecting crime levels, some police forces are reporting early data that shows a rise in commercial break-and-enters and stunt driving. Police are also worried about domestic incidents rising in the weeks ahead, CBC.

There are endless media reports of citizens buying guns and ammunition. People are uncertain as to what's happening. Uncertainty breeds fear. Fear prompts overreaction.

US Courts Running At 25 Percent

Most of the nation's courts are running at 25 percent or less of normal operations because of efforts to contain the coronavirus, finds a survey of hundreds of judges nationally. In the nonscientific emailed poll this month by the Reno, Nv.-based National Judicial College, nearly 6 in 10 judges said their courts were down to 25 percent or less of normal operations. More than 850 judges from around the U.S. responded. Nearly 80 percent of judges said they were operating at 50 percent or less of normal. Fewer than one in four judges said their court was operating at 50 percent or higher. Several judges reported that they had postponed all non-essential matters due to public safety concerns.

Lack Of Prosecutions

New York City prosecutors have declined dozens of criminal cases in which arrests were made since the coronavirus struck, citing court closures and public health concerns associated with incarceration, the Wall Street Journal reports. Police records show that district attorneys have declined to prosecute more than 500 such cases since Mayor Bill de Blasio declared a state of emergency on March 12.

Domestic Violence and Child Abuse

The United Nations Population Fund said woman "trapped at home" by coronavirus lockdowns are at increasing risk from domestic abuse. The agency estimated that for every three months the quarantine continues, there will be an additional 15 million extra cases of gender-based violence, The Crime Report.

Child exploitation complaints rise 106% to hit 2 million in just one month, Forbes.

U.N. Secretary-General António Guterres has urged "peace at home" and called for governments to prioritize safeguards against domestic violence in their COVID-19 response plans, as he warned that calls to support services have surged in some countries, Forbes.

Children face a heightened risk for sexual abuse during this time, child advocates told HuffPost. Scott Berkowitz, president of the Rape, Abuse and Incest National Network, said RAINN has seen an uptick in minors reporting sexual violence in March, the month most shelter-in-place orders were implemented across the country. "Last month, for the first time ever, a majority of RAINN's sexual abuse hotline users were minors," he told HuffPost, HuffPost.

Canada

There are reports of increasing burglaries and domestic violence in Canadian cities but overall crime is down, National Post.

Mexico

A major shootout between rival drug gangs has killed 19 people in the northern Mexico border state of Chihuahua, officials say. The state prosecutors' office said on Saturday that 18 corpses, two grenades, vehicles and guns were found at the scene of the clash in the hamlet of Chuchuichupa the township of Madera, The Guardian-UK.

A quarantine, with strict restraining measures, would result in fewer people in the streets, hence fewer robberies, probably fewer murders and burglaries; but when the social isolation ends, violence will undoubtedly return, Mexico-InternationalBusinessTimes.

Drug Traffickers Having Problems With Distribution

There are an endless array of newspaper articles and media reports stating that the illicit drug supply is greatly compromised by quarantine orders, Wall Street Journal. Prices are going up. This could have a profound impact on interpersonal and stranger to stranger crime, Drugs And Crime.

The pandemic may fuel the next wave of the opioid crisis. COVID-19 harms various vulnerable populations, but drug users face unique challenges, National Geographic.

Increasing Fraud

As the country grapples with the burgeoning coronavirus pandemic, cybersecurity experts are warning that employees working from home are increasingly being targeted by aggressive cybercriminals trying to capitalize on their unfamiliarity with remote work. The dark web is buzzing with coronavirus-related activity, experts said, with hackers selling other hackers COVID-19 scam "kits" complete with fraudulent email templates to target workers at home, ABC News.

Organized Crime

But before you shed any tears for the earth's mobsters, their stock market is climbing again, as new opportunities are emerging, thanks to the pandemic—opportunities that may even be long-term. Think of mafia groups as viruses themselves, always aggressively adapting and morphing to infect societies for power and profit, Forbes.

Violent Extremists-Hate Crimes

There are concerns regarding attacks on Asian Americans, The Blaze.

A Department of Homeland Security memo sent to law enforcement officials around the country warns that violent extremists could seek to take advantage of the COVID-19 pandemic by carrying out attacks against the U.S.

"Violent extremists probably are seeking to exploit public fears associated with the spread of COVID-19 to incite violence, intimidate targets and promote their ideologies, and we assess these efforts will intensify in the coming months," according to the intelligence bulletin, compiled by the agency's Counterterrorism Mission Center and Countering Weapons of Mass Destruction Office, ABC News.

Muslims are being targeted using "dangerous" conspiracy theories claiming they are spreading coronavirus by violating lockdown restrictions, a report has warned, The Independent.

US Prisons

There are endless stories from TheMarshallProject documenting the release of jail and prison inmates regarding concerns over infection and the stability of US correctional facilities.

28 federal prisoners dead of COVID-19. The Bureau of Prisons ramps up testing, nearly 1,400 federal prisoners and guards have tested positive. BUREAU OF PRISONS

Corrections officers in Arizona say they'll walk off the job if they don't get more protective gear and access to data about infection rates behind bars. KJZZ

Coronavirus-fueled tensions inside prisons and jails are boiling over into riots, standoffs and hunger strikes, the Wall Street Journal reports. The Butner prison complex in North Carolina has 76 cases between staff and inmates, the largest outbreak in federal prisons, says the Raleigh News & Observer.

"At one point, health correctional officers will call in sick and not come to work," said Mike Lawlor, former Connecticut Gov. Daniel Malloy's undersecretary for criminal justice policy and planning, and now criminal justice professor at the University of New Haven. The problem can escalate when correctional officers who are not sick fail to show up if they are worried about the safety of going to work due to sudden staff shortages, Washington Examiner.

Members of the National Guard are being trained to help at a second Ohio prison as coronavirus infections among correctional workers and prisoners continue to spread, the Cincinnati Enquirer reports. About 50 guard members will assist with "mission-critical functions" at the Marion Correctional Institution, said JoEllen Smith of the Ohio Department of Rehabilitation and Correction. The State Highway Patrol is also helping guard the prison's perimeter.

International Prisons

From The Crime Report, conditions worldwide during the coronavirus outbreak have caused tensions and unrest from Latin America to Europe to the Middle East, the Washington Post reports.

State Overreach?

U.S. Attorney General Barr again warns state and local officials about the scope of shelter orders. HUFFPOST

Holding Charged Offenders

Per The Crime Report and the Washington Post, Justice Department scenarios to hold inmates longer than normal because of delayed court hearings amid the coronavirus epidemic are being considered. Department spokeswoman Kerri Kupec said, "Courts are closing and grand juries are not meeting. That means prosecutors may not be able to indict criminals before a statute of limitations expires, or dangerous criminals who have been arrested may be released because of time limits. Criminals should not be able to avoid justice because of a public health emergency."

Help From The Department Of Justice

Department of Justice Makes $850 Million Available to Help Public Safety Agencies Address COVID-19 Pandemic.

The solicitation, posted by the Bureau of Justice Assistance, within the Justice Department's Office of Justice Programs (OJP), will remain open for at least 60 days and be extended as necessary. For more information about the Coronavirus Emergency Supplemental Funding program, visit https://bja.ojp.gov/funding/opportunities/bja-2020-18553.

More Assistance from DOJ

If you have a direct technical assistance need as a result of COVID-19, please reach out to CRI-TAC. CRI-TAC can offer short-term, remote technical assistance for agencies that need expert assistance from others in the field.

Increasing Violence Since 2015

Violent crime increased considerably since 2015 per the Bureau of Justice Statistics (USDOJ), Gallup and the Major Cities Chief Association. The FBI recorded small decreases in reported crime in 2018 and the first half of 2019, Violent Crime.

Before any of this happened, there were endless media reports of rising violence in cities throughout the country. There are cities with major crime problems, Most Dangerous Cities.

Officials in high crime cities are the most concerned regarding COVID-19 and disorder.

Conclusions Law enforcement's response to the uncertainty of the Coronavirus epidemic and the fear most Americans have during times of unparalleled stress will be a challenge for every police and correctional administrator. Crime is mostly decreasing with pockets of concern. Police executives and officers have to make adjustments. Everyone understands that it can't be business as usual. Communication strategies are key elements of the response.

Reprinted with permission from https://www.crimeinamerica.net.

Contact us at crimeinamerica@gmail.com or for media on deadline, use leonardsipes@gmail.com.

Leonard A. Sipes, Jr has thirty-five years of experience supervising public affairs for national and state criminal justice agencies. He is the Former Senior Specialist for Crime Prevention for the Department of Justice's clearinghouse and the Former Director of Information Management for the National Crime Prevention Council. He has a Post Master's degree from Johns Hopkins University and is the author of the book "Success With the Media". He can be reached via email at leonardsipes@gmail.com.
---