Disinfectant Guidelines: What Corrections Administrators Need to Know
By Michael Wilson
Published: 07/20/2020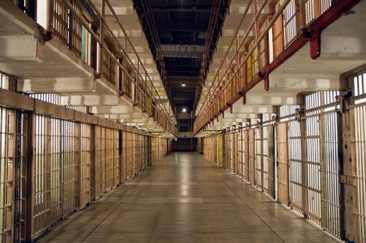 COVID-19 has impacted correctional facilities throughout the country in staggering numbers. In April and May 2020, Rikers Island, which is part of New York City's corrections complex, was reported to be "the epicenter of the epicenter," when New York State reported more COVID cases than any other state in the union.

Because of this, prison authorities are now taking several steps to protect inmate and staff health. This includes:
Passing out masks
Trying to enforce some type of social distancing
Quickly moving those confirmed or suspected of having the disease out of the general population
Increasing cleaning frequencies.
Effective and frequent cleaning using disinfectants approved by the Centers for Disease Control and Prevention (CDC) is proving to be one of the most crucial ways we can keep inmates and staff healthy. However, we need to take a closer look at these disinfectants and how they are used.

Disinfectants are not all the same. Just because a disinfectant has been tested and proven to be effective against COVID, does not mean it is doing the job. This can be due to several factors, such as the following:
Disinfectants can vary in the types of ingredients used, as well as the amounts of ingredients used.
They have different dilution ratios.
Some are considered "green" in Canada and other parts of the world but are not in the U.S.; further, they cannot even use the term.*
Disinfectants fall into different categories, such as general disinfectants, limited disinfectants, and hospital-grade disinfectants. They are all different.
Various disinfectants are designed to kill different types of pathogens.
How long the product sets on a surface, referred to as dwell time, can vary.
This means the first step in using disinfectants properly is to understand as much about the disinfectant as possible. Most of the information we need to know is on the product label or enclosed with the disinfectant.

However, chemical manufacturers are frequently criticized for making this information difficult to read and understand. This is one of many reasons why corrections administrators should work with distributors:
To know the facts about disinfectant
Access new online technologies that can help administrators select the most effective disinfectant for their facility
How to use them most properly.
However, while they do vary, most disinfectants share similar guidelines as to use. Administrators should be aware of these guidelines and, to protect the health of staff and inmates, ensure that they are strictly followed. Among them are the following:
Always test the product first before use on metalwork. In some cases, the disinfectant may prove corrosive to metalwork.
Never mix two different types of disinfectants. They may have different ingredients that may not work well when combined. Further, mixing can produce noxious fumes.
Pathogens can develop an immunity to disinfectants. For this reason, administrators should instruct those in charge of cleaning only to use disinfectants where necessary: e.g., office areas, no; restrooms and showers, yes.
To further prevent pathogen immunities, change disinfectants occasionally.
Never use too much or too little disinfectant. Follow the manufacturer's dilution instructions.
In most cases, surfaces must be cleaned first and then the same surfaces disinfected, a two-step process. If the disinfectant is labeled as a "cleaner disinfectant," than one step may be all that is necessary.
While we mentioned the dwell time might vary, all disinfectants need to set on a surface for five to ten minutes before removing; if the disinfectant dries on the surface, it must be reapplied.
Be aware of quat binding. "Quats" are the key pathogen killing ingredients in most disinfectants. In the process of cleaning, they can become absorbed into cleaning cloths or mops. As this happens, the disinfectant loses its efficacy. To prevent this, change cleaning cloths and mops frequently.
Some disinfectants may leave a chemical residue on surfaces that can, ironically, attract pathogens. In many cases, after removing the disinfectant, the same area may need to be rinsed clean, a third step in the cleaning process.
The sticker price may have nothing to do with what the product costs to use. To determine the true costs, check the dilution ratios. More water and less disinfectant is more cost-effective.
We need to explore this last point a bit more thoroughly. Some disinfectants are highly concentrated, and these are often more costly. However, this also means they go further. For example, one gallon of a highly concentrated disinfectant may last a week or longer. One gallon of a less concentrated disinfectant may only last a couple of days. Ultimately, the costlier disinfectant is the most cost-effective.

We have discussed several issues from how disinfectants can vary, to how to use them, along with some tips on purchasing and cost issues. But selecting the right disinfectants for your prison facility can be difficult. Plus, we purposely used the plural, "disinfectants" here. This is because one disinfectant may be necessary for certain areas of a prison facility, while another disinfectant should be used in different areas.

To help guide administrators, we mentioned they should work with an astute distributor of cleaning supplies and equipment. Further, we also referenced that some now have online technologies, "dashboards," which allow administrators and distributors to work together, to research the features and benefits of different disinfectants and products.

This eliminates trial and error purchasing. With a worldwide pandemic impacting corrections throughout the country extremely hard, we do not have the luxury of making a trial and error purchase right now.

Michael Wilson is AFFLINK's Vice President of Marketing and Packaging. He has been with the organization since 2005 and provides strategic leadership for the entire supply chain team. In his free time Michael enjoys working with the Wounded Warrior Project, fishing, and improving his cooking skills. He can be reached through his company website at www.AFFLINK.com.

* In the U.S., the Environmental Protection Agency (EPA) regulates disinfectants and categorizes them as pesticides. They evaluate them just to their effectiveness, not their impact on the environment. Further, the EPA does not allow any disinfectant sold in the U.S. to use terms indicating the product is green or environmentally preferable.
---